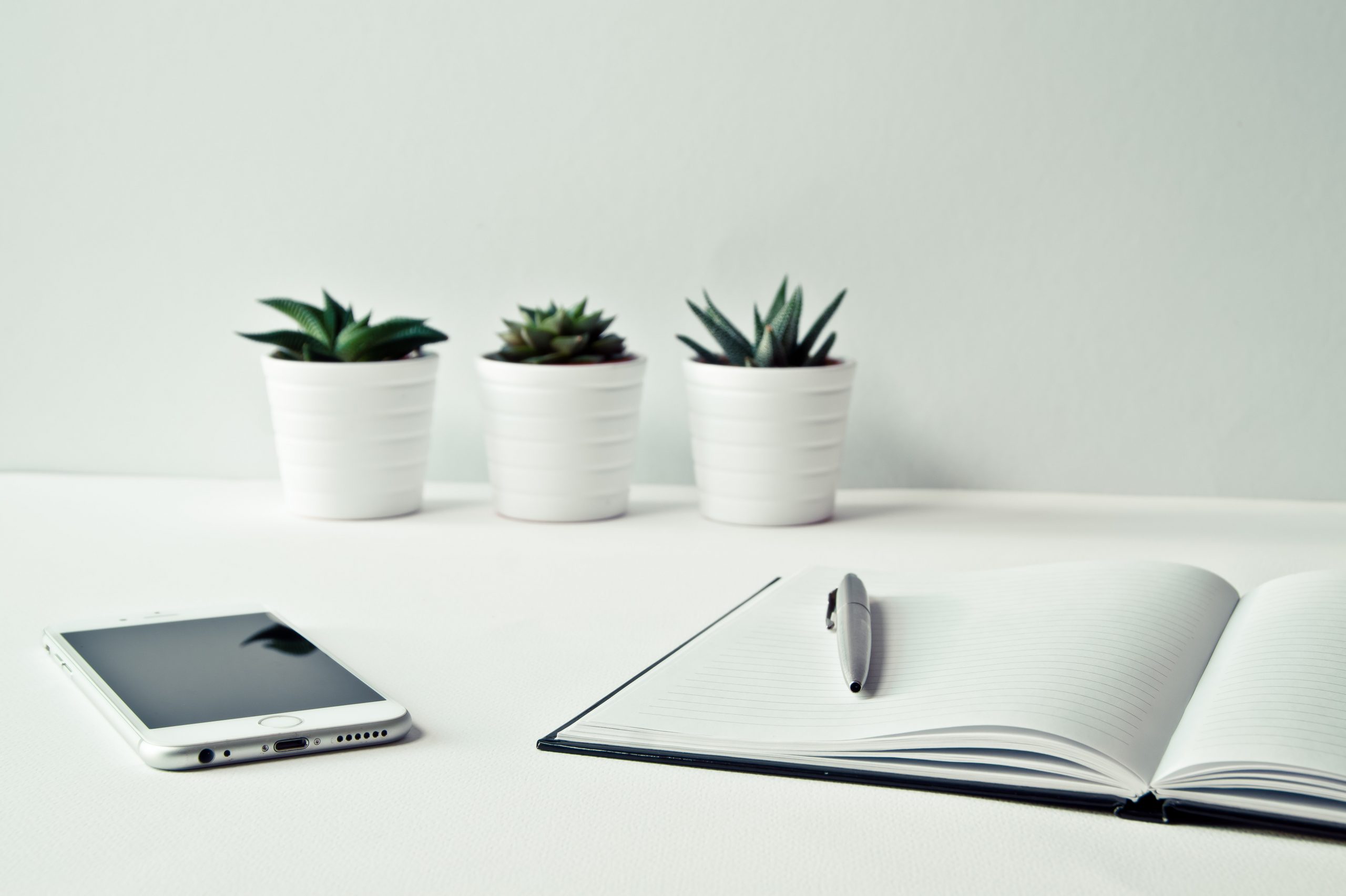 If you're wondering if home prices are going to come down due to the cooldown in the housing market or a potential recession, here's what you need to know. Not only are experts forecasting home prices will continue to appreciate nationwide this year, but most of them also actually increased their projections for home price appreciation from their original 2022 forecasts (shown in green in the chart below):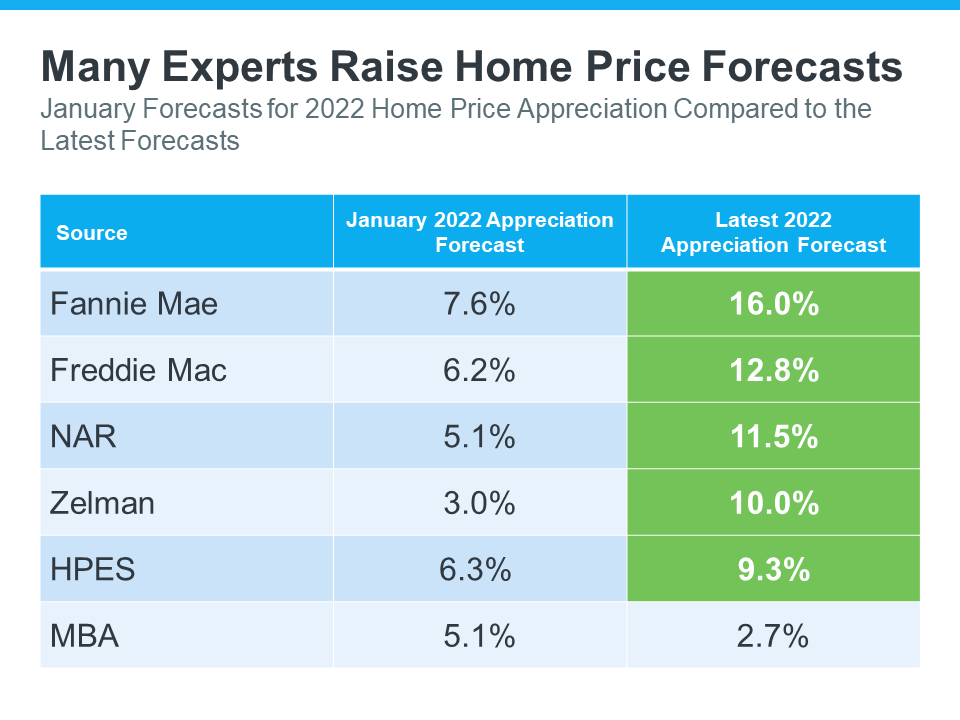 As the chart shows, most sources adjusted up, and now call for more appreciation in 2022 than they originally projected this January. But why are experts so confident the housing market will see ongoing appreciation? It's because of supply and demand in most markets. As Bankrate says:
"After all, supplies of homes for sale remain near record lows. And while a jump in mortgage rates has dampened demand somewhat, demand still outpaces supply, thanks to a combination of little new construction and strong household formation by large numbers of millennials."
Knowing that experts forecast home prices will continue to appreciate in most markets and that they've actually increased their original projections for this year should help you answer the question: will home prices fall? According to the latest forecasts, experts are confident prices will continue to appreciate this year, although at a more moderate rate than they did in 2021.
Bottom Line
If you're worried home prices are going to decline, rest assured many experts raised their forecasts to say they'll continue to appreciate in most markets this year. If you have questions about what's happening with home prices in our local area, let's connect.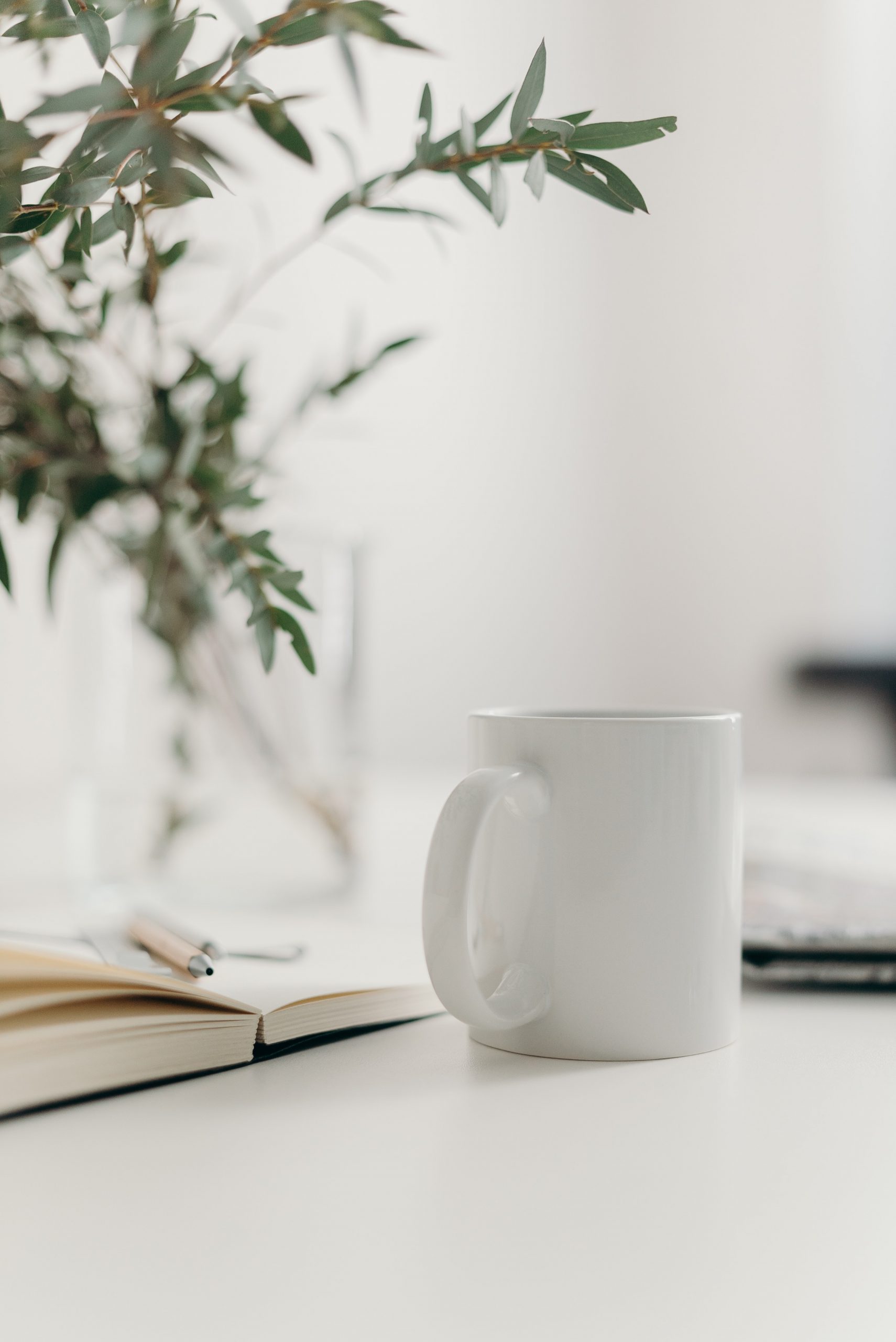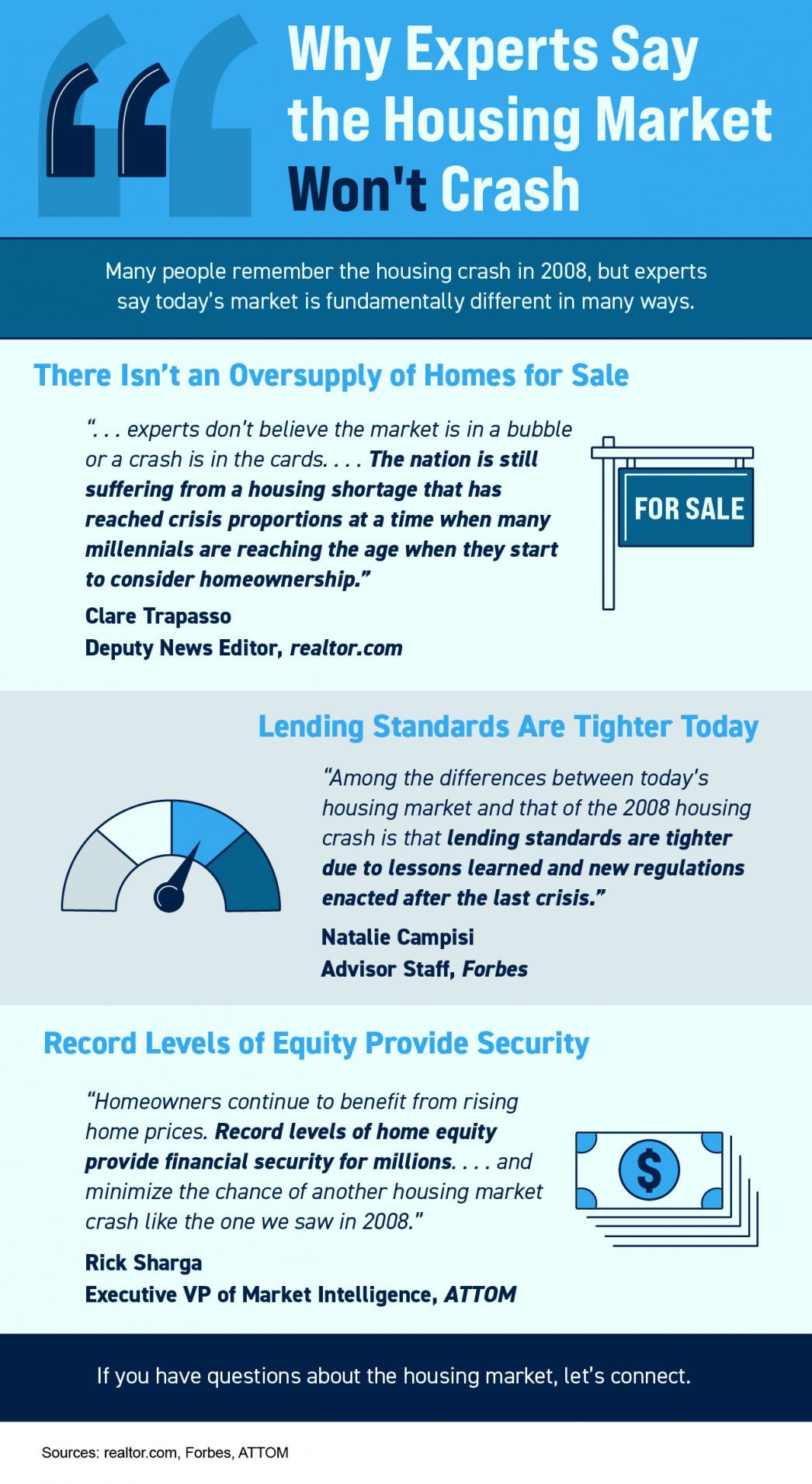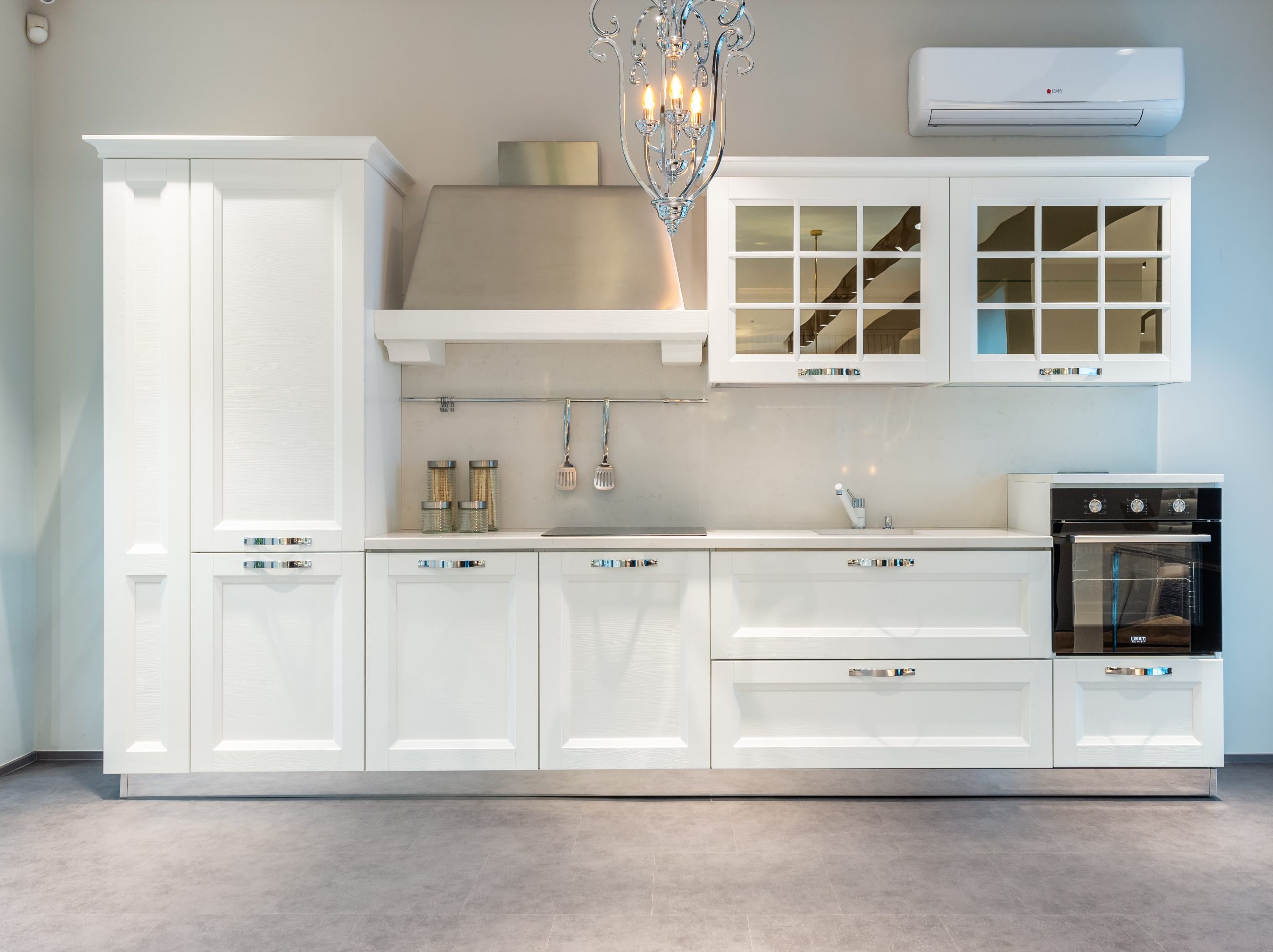 If you tried to buy a home during the pandemic, you know the limited supply of homes for sale was a considerable challenge. It created intense bidding wars which drove home prices up as buyers competed with one another to be the winning offer.
But what was once your greatest challenge may now be your greatest opportunity. Today, data shows buyer demand is moderating in the wake of higher mortgage rates. Here are a few reasons why this shift in the housing market is good news for your homebuying plans.
The Challenge
There were many reasons for the limited number of homes on the market during the pandemic, including a history of underbuilding new homes since the market crash in 2008. As the graph below shows, housing supply is well below what the market has seen for most of the past 10 years (see graph below):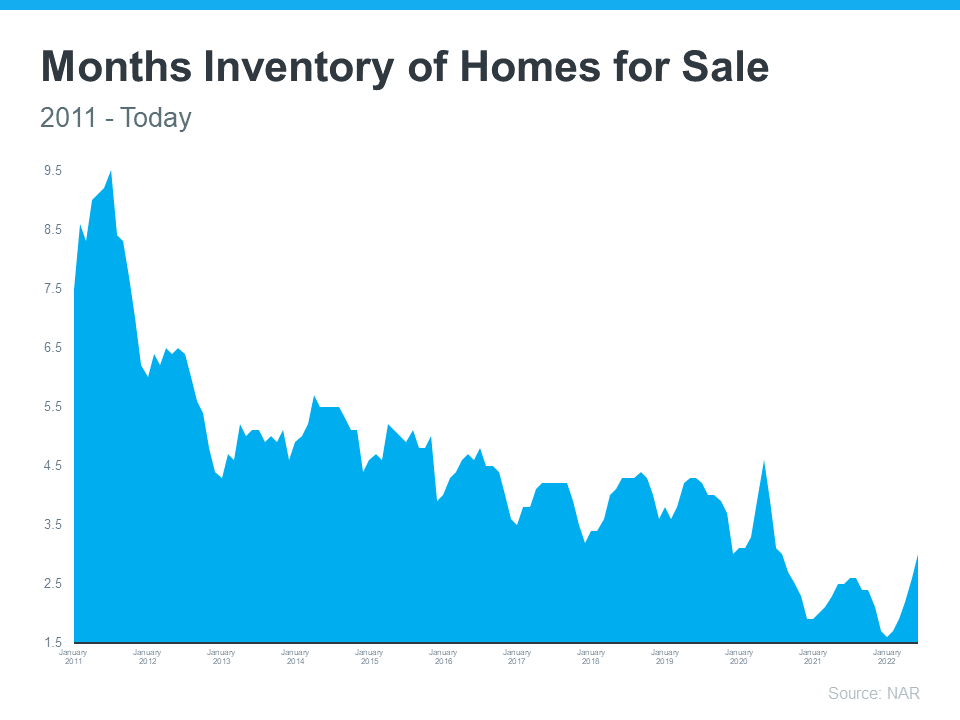 The Opportunity
But that graph also shows a trend back up in the right direction this year. That's because moderating demand is slowing the pace of home sales and that's one of the reasons housing supply is finally able to grow. For you, that means you'll have more options to choose from, so it shouldn't be as difficult to find your next home as it has been recently.
And having more options may also lead to less intense bidding wars. Data from the Realtors Confidence Index from the National Association of Realtors (NAR) shows this trend has already begun. In their recent reports, bidding wars are easing month-over-month (see graph below):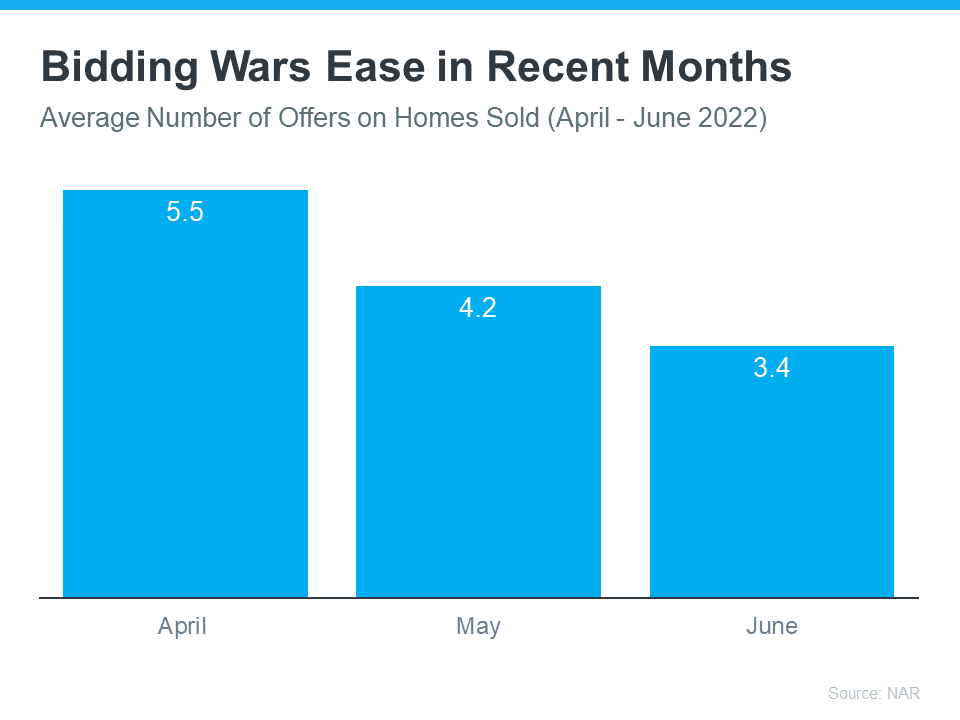 If you've been outbid before or you've struggled to find a home that meets your needs, breathe a welcome sigh of relief. The big takeaway here is you have more options and less competition today.
Just remember, while easing, data shows multiple-offer scenarios are still happening – they're just not as intense as they were over the past year. You should still lean on an agent to guide you through the process and help you make your strongest offer up front.
Bottom Line
If you're still looking to make a move, it may be time to pick your home search back up today. Let's connect to kick off the homebuying process.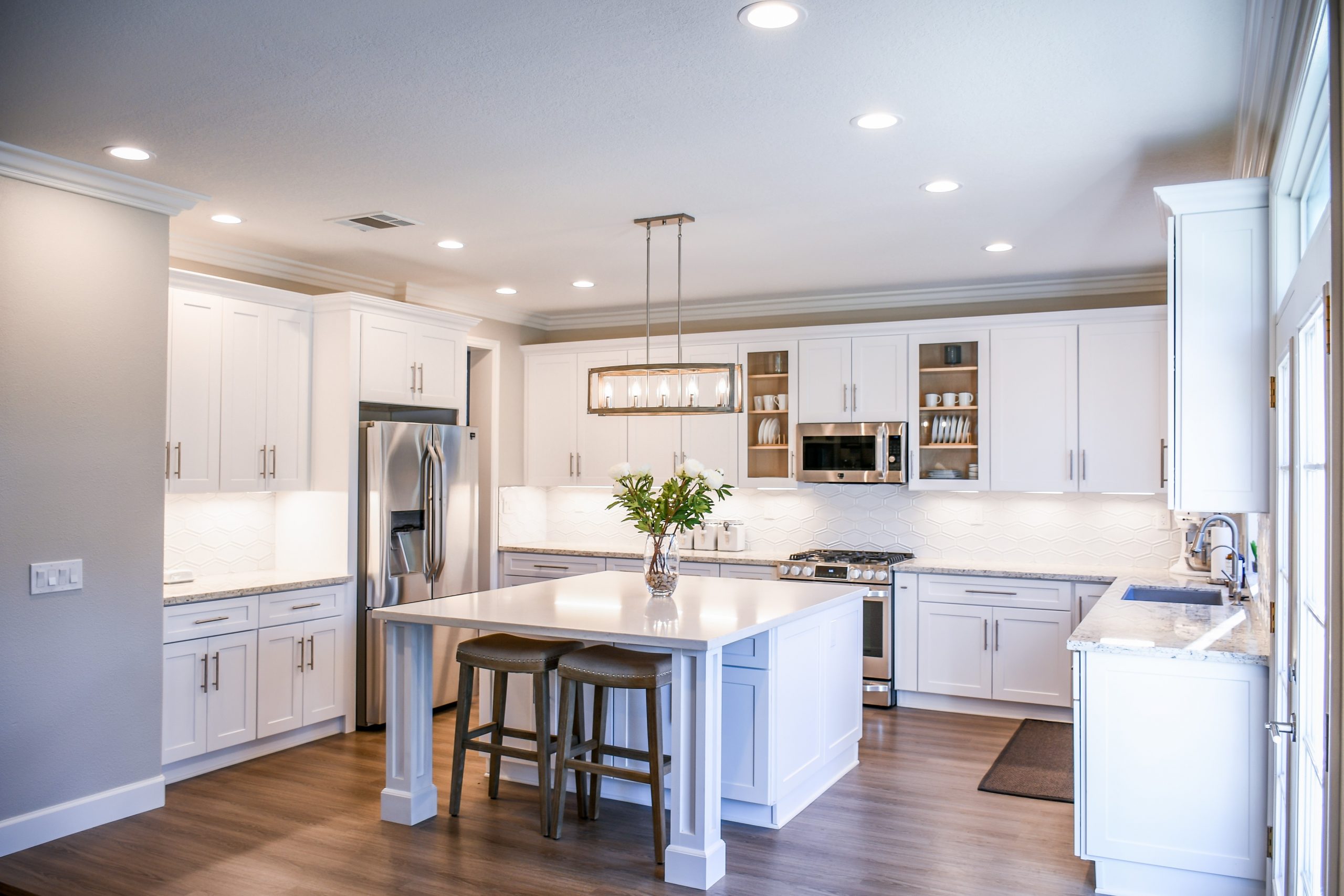 There's no doubt about the fact that the housing market is slowing from the frenzy we saw over the past two years. But what does that mean for you if you're thinking of selling your house?
While home prices are still appreciating in most markets and experts say that will continue, they're climbing at a slower pace because rising mortgage rates are creating less buyer demand. Because of this, there are more homes on the market. And in a shift like this one, the way you price your home matters more than ever.
Why Today's Housing Market Is Different
During the pandemic, sellers could price their homes higher because demand was so high, and supply was so low. This year, things are shifting, and that means your approach to pricing your house needs to shift too.
Because we're seeing less buyer demand, sellers have to recognize this is a different market than it was during the pandemic. Here's what's at stake if you don't.
Why Pricing Your House at Market Value Matters
The price you set for your house sends a message to potential buyers. If you price it too high, you run the risk of deterring buyers.
When that happens, you may have to lower the price to try to reignite interest in your house when it sits on the market for a while. But be aware that a price drop can be seen as a red flag for some buyers who will wonder what that means about the home or if in fact it's still overpriced. Some sellers aren't adjusting their expectations to today's market, and realtor.com explains the impact that's having:
". . . the share of listings with a price cut was nearly double its year ago level even as it remains well below pre-pandemic levels."
To avoid the headache of having to lower your price, you'll want to price it right from the onset. A real estate advisor knows how to determine that perfect asking price. To find the right price, they balance the value of homes in your neighborhood, current market trends and buyer demand, the condition of your house, and more.
Not to mention, pricing your house fairly based on market conditions increases the chance you'll have more buyers who are interested in purchasing it. This helps lead to stronger offers and a greater likelihood it'll sell quickly.
Why You Still Have an Opportunity When You Sell Today
Rest assured, it's still a sellers' market, and you'll still get great benefits if you plan accordingly and work with an agent to set your price at the current market value. As Lawrence Yun, Chief Economist at the National Association of Realtors (NAR), says:
"Homes priced right are selling very quickly, but homes priced too high are deterring prospective buyers."
Mike Simonsen, the Founder and CEO of Altos Research, also notes:
"We can see that demand is still there for the homes that are priced properly."
Bottom Line
Homes priced right are selling quickly in today's real estate market. Let's connect to make sure you price your house based on current market conditions so you can maximize your sales potential and minimize your hassle in a shifting market.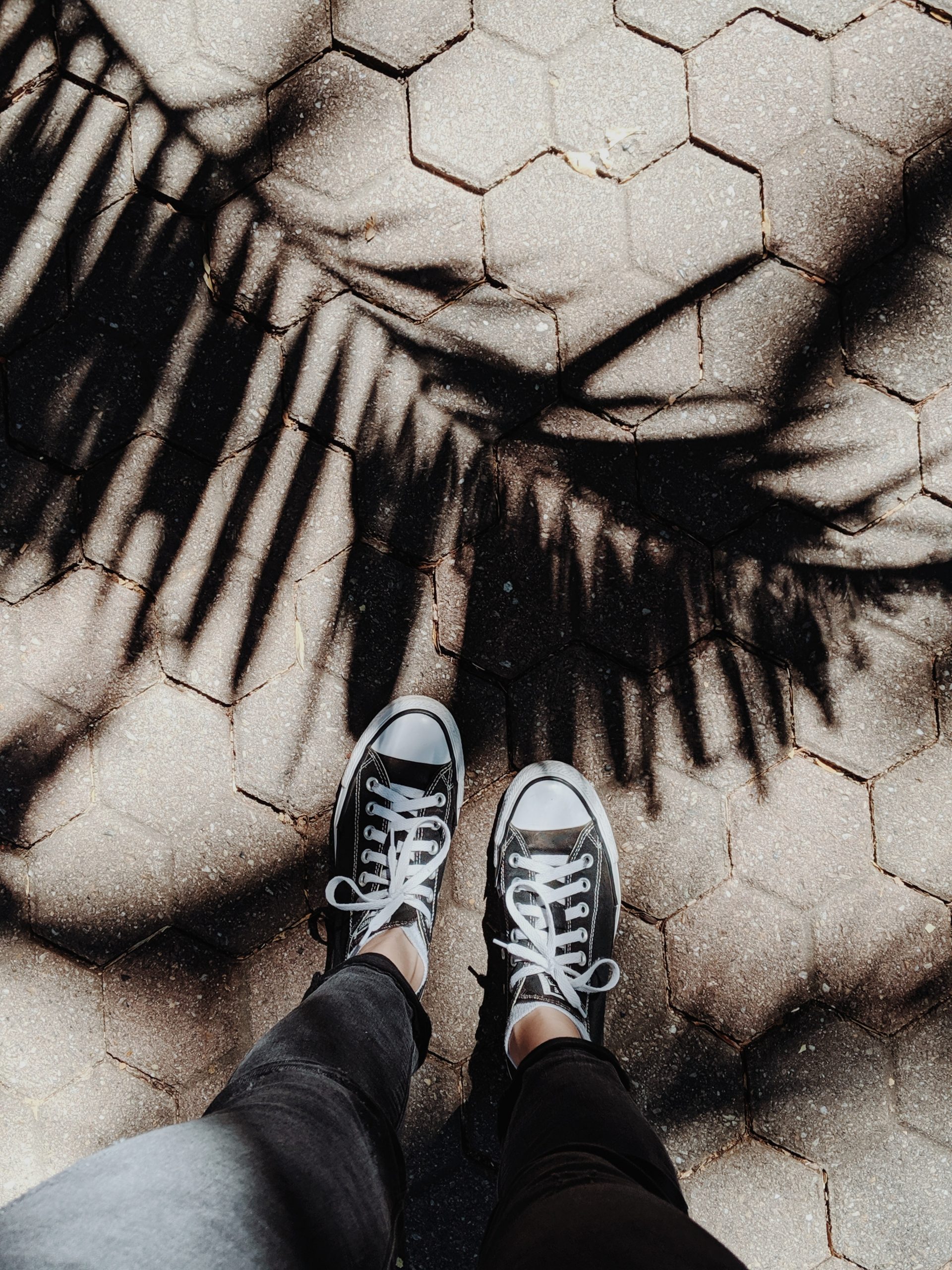 Buying a home is a major life decision. That's true whether you're purchasing for the first time or selling your house to fuel a move. And if you're planning to buy a home, you might be hearing about today's shifting market and wondering what it means for you.
While mortgage rates are higher than they were at the start of the year and home prices are rising, you shouldn't put your plans on hold based solely on market factors. Instead, it's necessary to consider why you want to move and how important those reasons are to you. Here are two of the biggest personal motivators driving people to buy homes today.
A Need for More Space
Moving.com looked at migration patterns to determine why people moved to specific areas. One trend that emerged was the need for additional space, both indoors and outdoors.
Outgrowing your home isn't new. If you're craving a large yard, more entertaining room, or just need more storage areas or bedrooms overall, having the physical space you need for your desired lifestyle may be reason enough to make a change.
A Desire To Be Closer to Loved Ones
Moving and storage company United Van Lines surveys customers each year to get a better sense of why people move. The latest survey finds nearly 32% of people moved to be closer to loved ones.
Another moving and storage company, Pods, also highlights this as a top motivator for why people move. They note that an increase in flexible work options has helped many homeowners make a move closer to the people they care about most:
". . . a shifting of priorities has also affected why people are moving. Many companies have moved to permanent remote working policies, giving employees the option to move freely around the country, and people are taking advantage of the perk."
If you can move to another location because of remote work, retirement, or for any other reason, you could leverage that flexibility to be closer to the most important people in your life. Being nearby for caregiving and being able to attend get-togethers and life milestones could be exactly what you're looking for.
What Does That Mean for You?
If you're thinking about moving, one of these reasons might be a top motivator for you. And while what's happening with mortgage rates and home prices in the housing market today will likely play a role in your decision, it's equally important to make sure your home meets your needs. Like Charlie Bilello, Founder and CEO of Compound Capital Advisors, says:
"Your home is your castle and should confer benefits beyond just the numbers."
Bottom Line
There are many reasons why people decide to move. No matter what the reason may be, if your needs have changed, let's connect to discuss your options in today's housing market.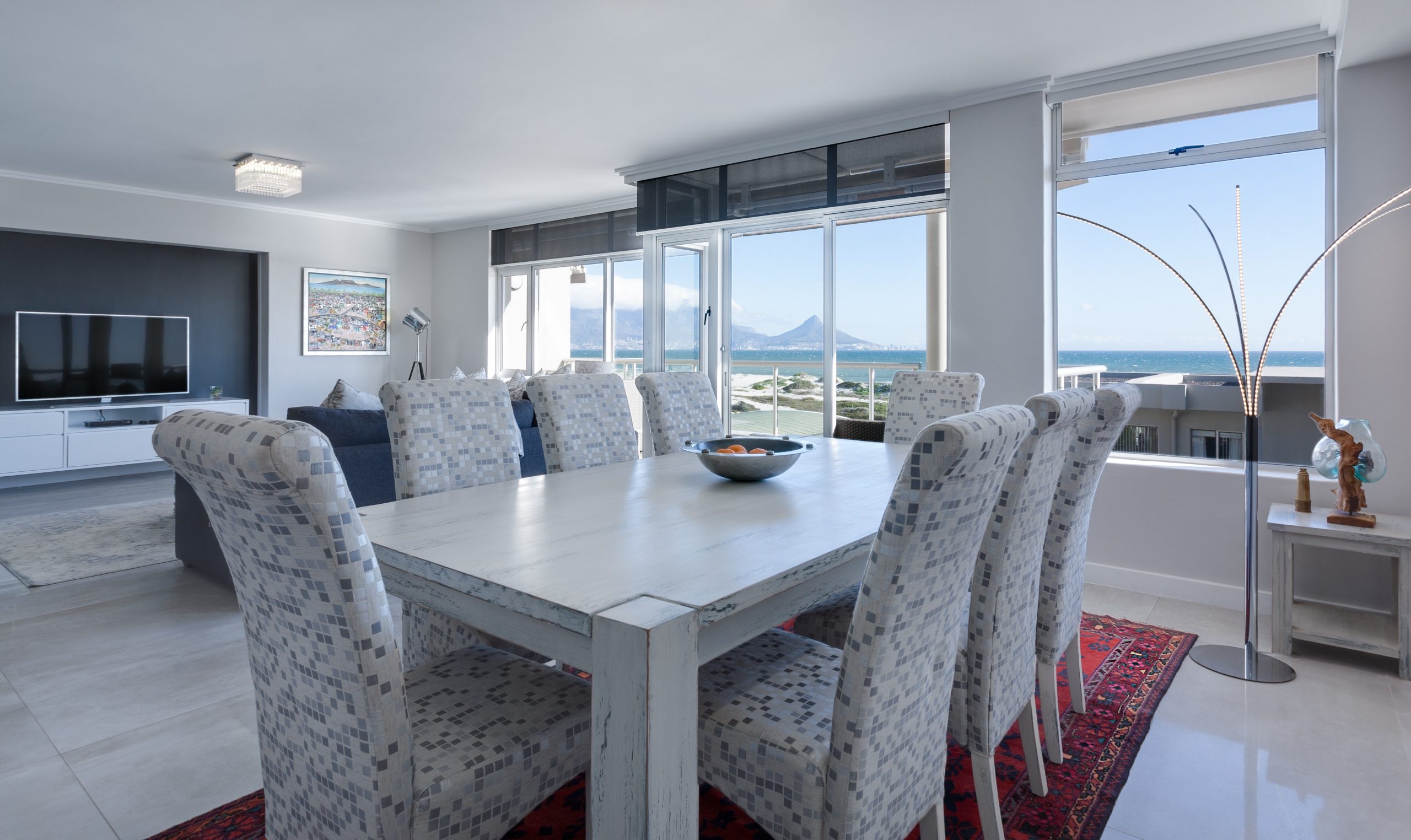 With all the headlines and buzz in the media, some consumers believe the market is in a housing bubble. As the housing market shifts, you may be wondering what'll happen next. It's only natural for concerns to creep in that it could be a repeat of what took place in 2008. The good news is, there's concrete data to show why this is nothing like the last time.
There's a Shortage of Homes on the Market Today, Not a Surplus
The supply of inventory needed to sustain a normal real estate market is approximately six months. Anything more than that is an overabundance and will causes prices to depreciate. Anything less than that is a shortage and will lead to continued price appreciation.
For historical context, there were too many homes for sale during the housing crisis (many of which were short sales and foreclosures), and that caused prices to tumble. Today, supply is growing, but there's still a shortage of inventory available.
The graph below uses data from the National Association of Realtors (NAR) to show how this time compares to the crash. Today, unsold inventory sits at just a 3.0-months' supply at the current sales pace.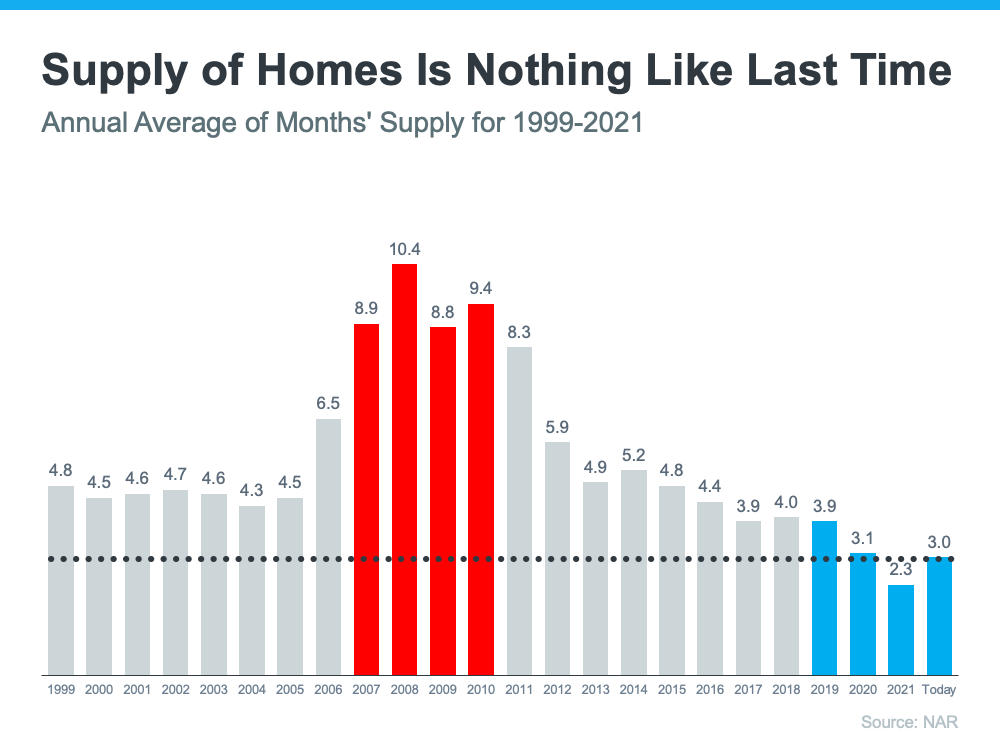 One of the reasons inventory is still low is because of sustained underbuilding. When you couple that with ongoing buyer demand as millennials age into their peak homebuying years, it continues to put upward pressure on home prices. That limited supply compared to buyer demand is why experts forecast home prices won't fall this time.
Mortgage Standards Were Much More Relaxed During the Crash
During the lead-up to the housing crisis, it was much easier to get a home loan than it is today. The graph below showcases data on the Mortgage Credit Availability Index (MCAI) from the Mortgage Bankers Association (MBA). The higher the number, the easier it is to get a mortgage.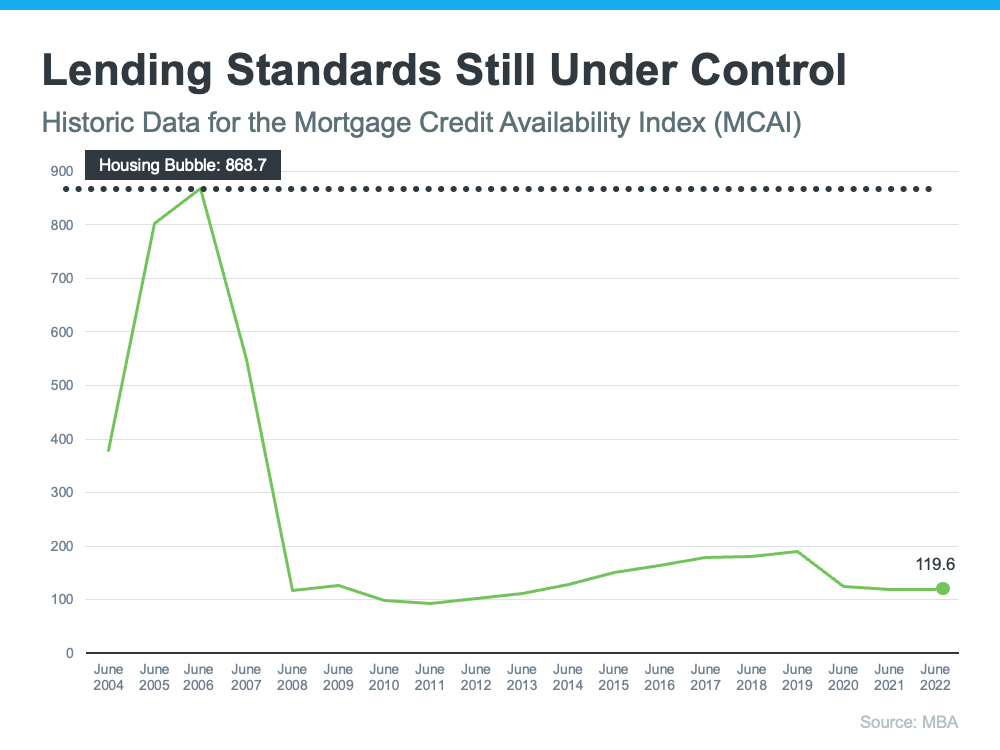 Running up to 2006, banks were creating artificial demand by lowering lending standards and making it easy for just about anyone to qualify for a home loan or refinance their current home. Back then, lending institutions took on much greater risk in both the person and the mortgage products offered. That led to mass defaults, foreclosures, and falling prices.
Today, things are different, and purchasers face much higher standards from mortgage companies. Mark Fleming, Chief Economist at First American, says:
"Credit standards tightened in recent months due to increasing economic uncertainty and monetary policy tightening." 
Stricter standards, like there are today, help prevent a risk of a rash of foreclosures like there was last time.
The Foreclosure Volume Is Nothing Like It Was During the Crash
The most obvious difference is the number of homeowners that were facing foreclosure after the housing bubble burst. Foreclosure activity has been on the way down since the crash because buyers today are more qualified and less likely to default on their loans. The graph below uses data from ATTOM Data Solutions to help tell the story:
In addition, homeowners today are equity rich, not tapped out. In the run-up to the housing bubble, some homeowners were using their homes as personal ATMs. Many immediately withdrew their equity once it built up. When home values began to fall, some homeowners found themselves in a negative equity situation where the amount they owed on their mortgage was greater than the value of their home. Some of those households decided to walk away from their homes, and that led to a wave of distressed property listings (foreclosures and short sales), which sold at considerable discounts that lowered the value of other homes in the area.
Today, prices have risen nicely over the last few years, and that's given homeowners an equity boost. According to Black Knight:
"In total, mortgage holders gained $2.8 trillion in tappable equity over the past 12 months – a 34% increase that equates to more than $207,000 in equity available per borrower. . . ."
With the average home equity now standing at $207,000, homeowners are in a completely different position this time.
Bottom Line
If you're worried we're making the same mistakes that led to the housing crash, the graphs above should help alleviate your concerns. Concrete data and expert insights clearly show why this is nothing like the last time.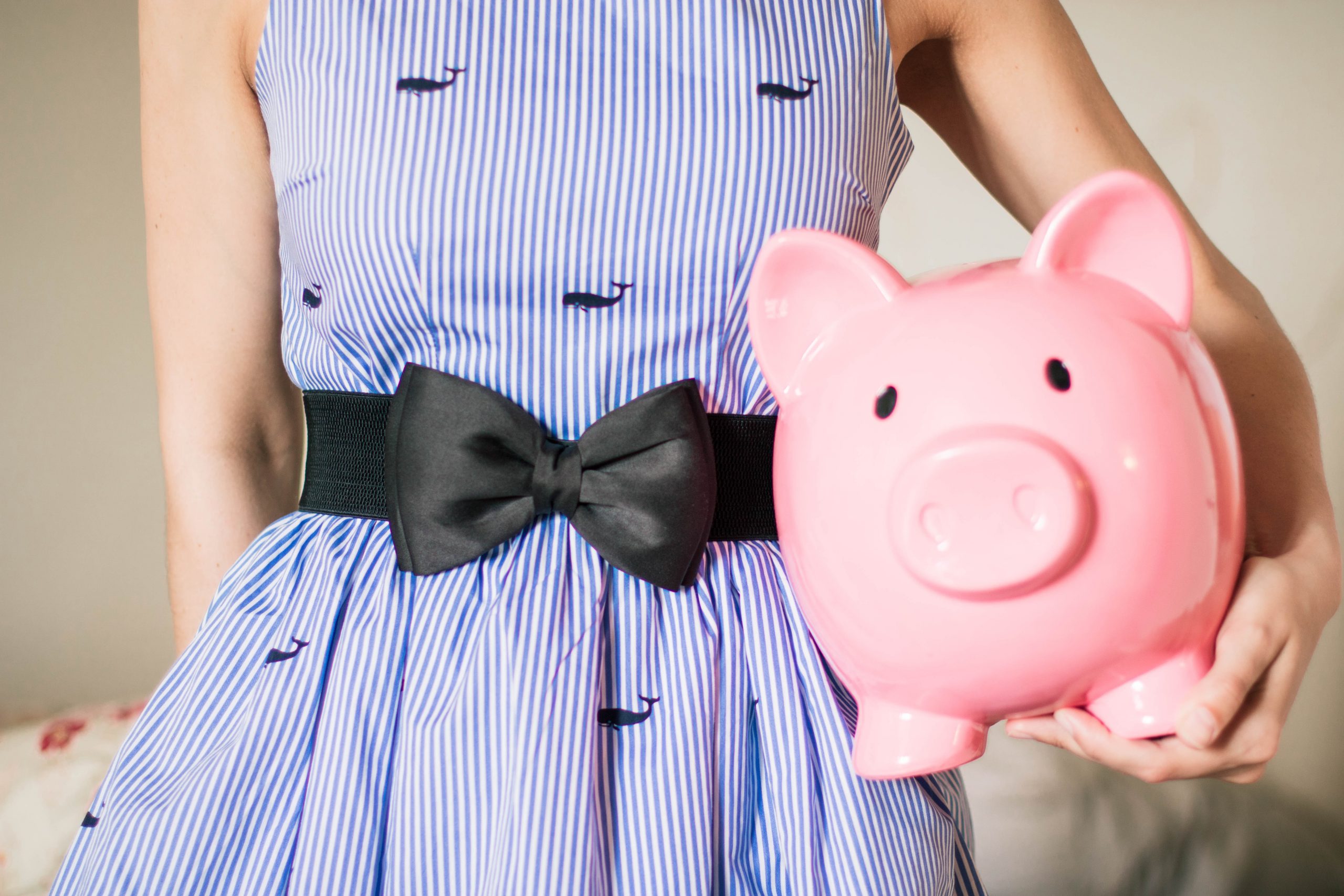 There's a common misconception that, as a homebuyer, you need to come up with 20% of the total sale price for your down payment. In fact, a recent survey by Lending Tree asks what is keeping consumers from purchasing a home. For over half of those surveyed, the ability to afford a down payment is the biggest hurdle.
That may be because those individuals assume a 20% down payment is necessary. While putting more money down if you're able can benefit buyers, putting 20% down is not mandatory. As Freddie Mac puts it:
"The most damaging down payment myth—since it stops the homebuying process before it can start—is the belief that 20% is necessary."
If saving that much money sounds overwhelming, you might be ready to give up on the dream of homeownership before you even begin – but you don't have to. According to the Profile of Home Buyers and Sellers from the National Association of Realtors (NAR), the median down payment hasn't been over 20% since 2005. It may sound surprising, but today's average down payment is only 12%. That number is even lower for first-time homebuyers, whose average down payment is only 7%.
Based on the Home Buyers and Sellers Generational Trends Report from NAR, the graph below shows an even closer look at the down payment percentage various age groups pay: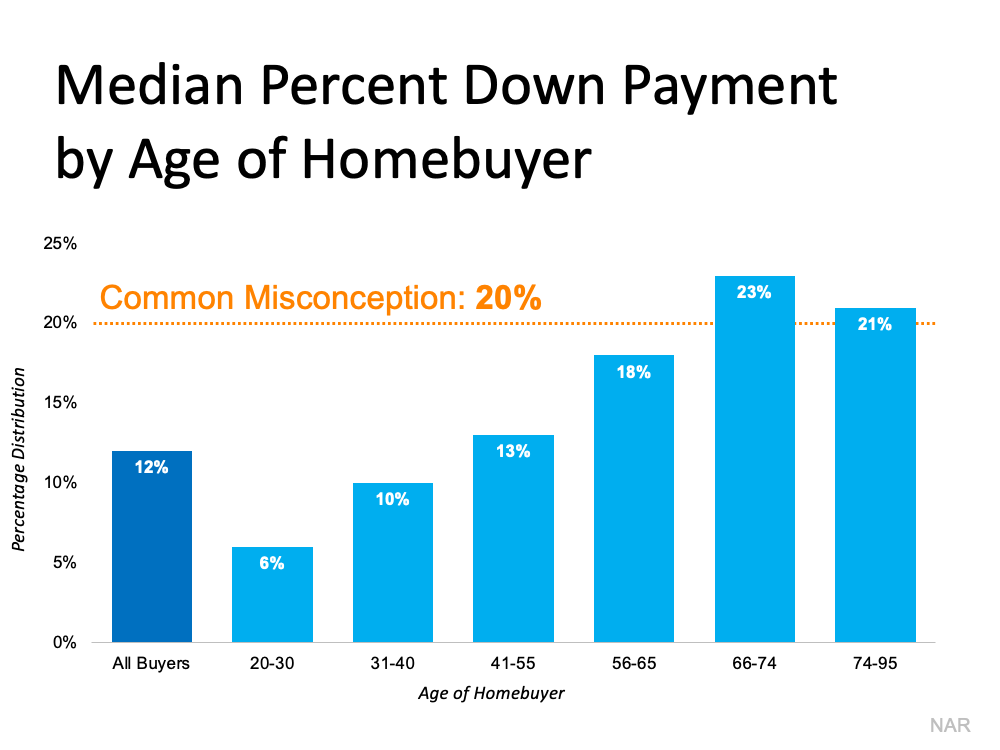 As the graph shows, the only groups who put 20% or more down on average are older homebuyers who likely can use the sale of an existing home to fuel a larger down payment on their next home.
What does this mean for you?
If you're a prospective homebuyer, it's important to know you don't have to put the full 20% down. And while saving for any down payment amount may feel like a challenge, keep in mind there are programs for qualified buyers that allow them to purchase a home with a down payment as low as 3.5%. There are also options like VA loans and USDA loans with no down payment requirements for qualified applicants.
To understand your options, you do need to do your homework. If you're interested in learning more about down payment assistance programs, information is available through sites like downpaymentresource.com. Be sure to also work with a real estate advisor from the start to learn what you may qualify for in the homebuying process.
Bottom Line
Don't let the myth of the 20% down payment halt your homebuying process before it begins. If you want to purchase a home this year, let's connect to start the conversation and explore your options.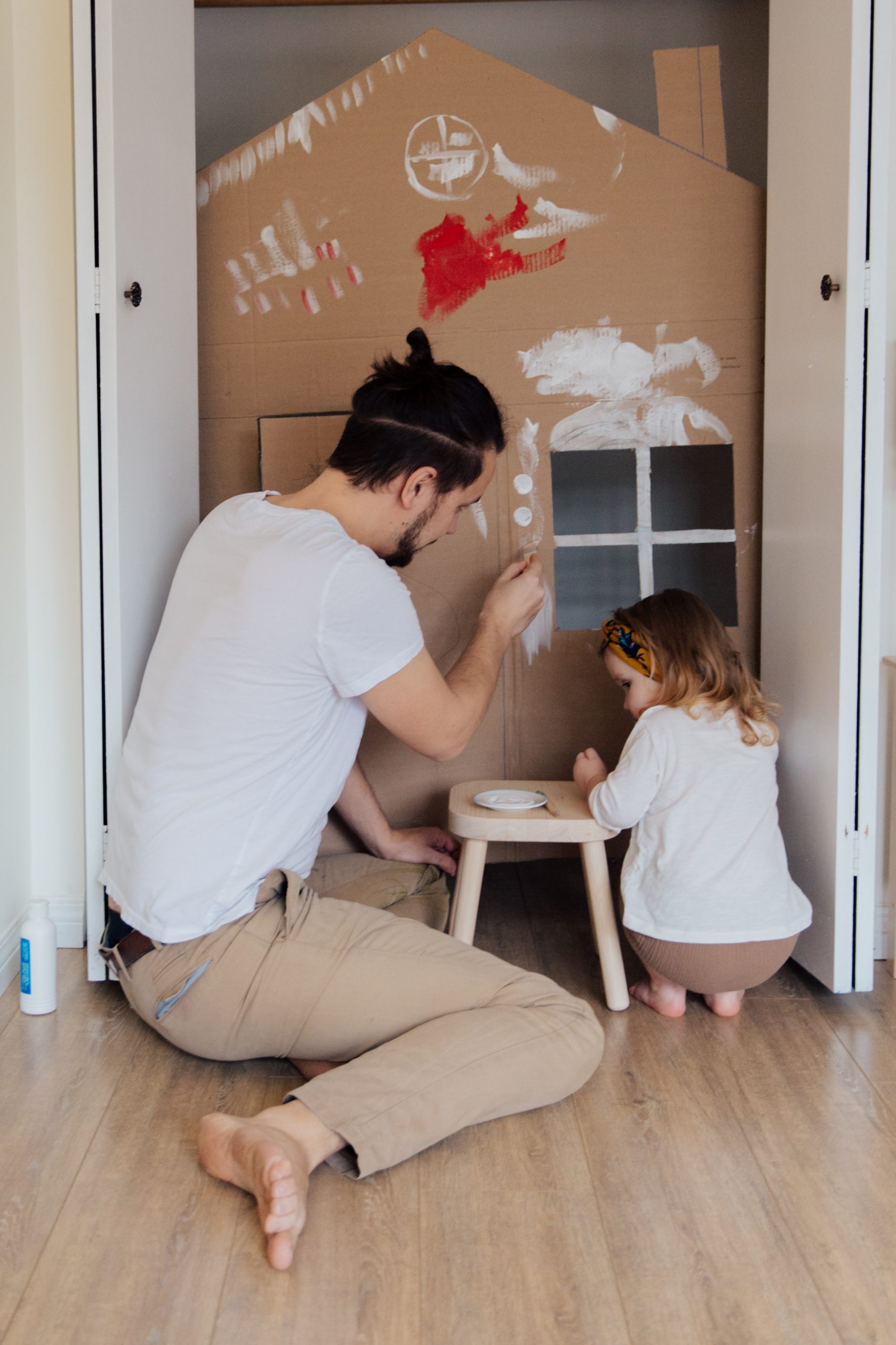 The sense of pride you'll feel when you purchase a home can't be overstated. For first-generation homebuyers, that feeling of accomplishment is even greater. That's because the pride of homeownership for first-generation buyers extends far beyond the homebuyer. AJ Barkley, Head of Neighborhood and Community Lending for Bank of America, says:
"Achieving this goal can create a sense of pride and accomplishment that resonates both for the buyer and those closest to them, including their parents and future generations."
In other words, your dream of homeownership has far-reaching impacts. If you're about to be the first person in your family to buy a home, let that motivate you throughout the process. As you begin your journey, here are three helpful tips to make that dream come true.
1. Reach Out to a Real Estate Professional
It's important to reach out to a trusted advisor early in your homebuying process. Not only can an agent help you find the right home, but they'll serve as your expert advisor and answer any questions you might have along the way.
The latest Profile of Home Buyers and Sellers from the National Association of Realtors (NAR) surveyed first-time homebuyers to see how their agent helped them with their home purchase (see chart below):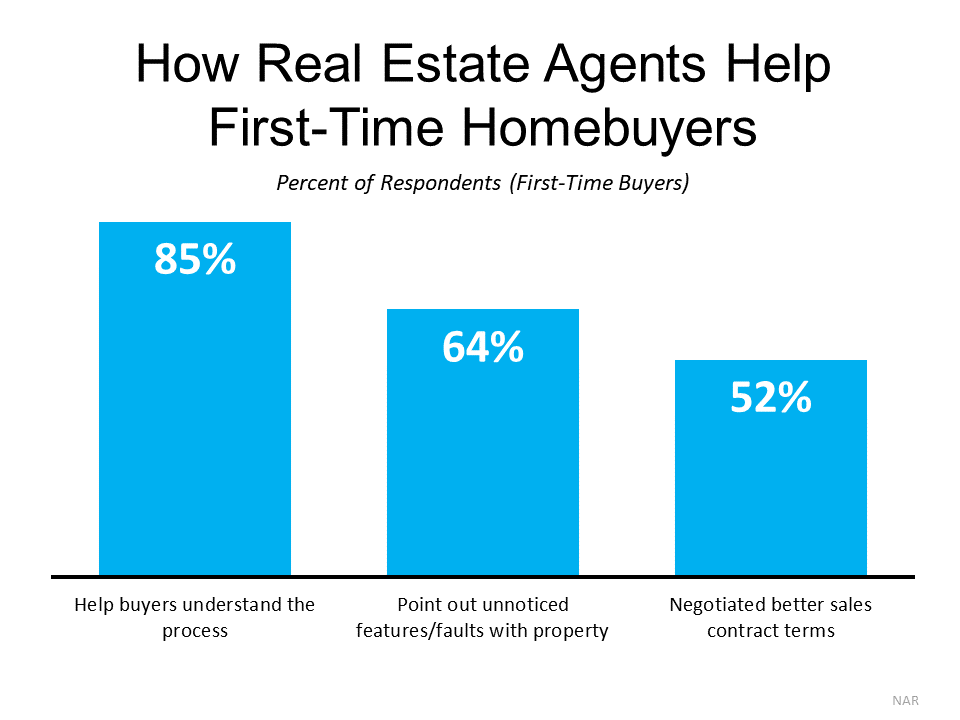 As the graph shows, your agent is a great source of information throughout the process. They'll help you understand what's happening, assess a home's condition, and negotiate a contract that has the best possible terms for you. These are just some of the reasons having an expert in your corner is critical as you navigate one of the most significant purchases of your life.
2. Do Your Research and Know What You Can Afford
The second piece of advice for first-generation homebuyers is practical: do your research so you know what you can afford. That means getting your finances in order, reviewing your budget, and getting pre-approved through a lender. It also means learning the ins and outs of what it takes to pay for your home, including what you'll need for a down payment.
Many homebuyers believe the common misconception that you can't purchase a home without coming up with a 20% for a down payment. As Freddie Mac says:
"The most damaging down payment myth—since it stops the homebuying process before it can start—is the belief that 20% is necessary."
The chart below shows what recent homebuyers have actually put down on their purchases: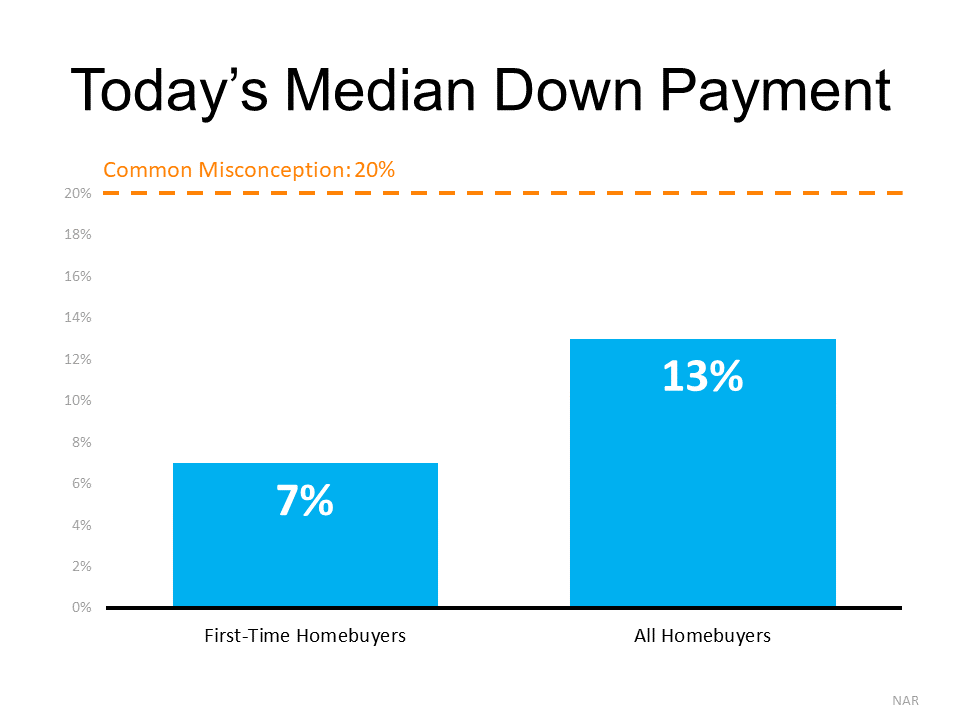 On average, first-time buyers only put 7% down on their home purchase. That's far less than the 20% many people believe is necessary. That means your down payment, and your home purchase, may be in closer reach than you realize. Keep that in mind as you work with a real estate professional to better understand what you'll need for your purchase.
3. Don't Lose Sight of What Home Means to You
Finally, it's important keep in mind why you're searching for a home to begin with. Overwhelmingly, first-generation homeowners recognize the financial and non-financial benefits of owning a home. In fact, in a recent survey:
73% of first-generation homeowners say the safety and security homeownership provides is increasing in importance.
Nearly two-thirds of first-generation homeowners say the importance of building equity in a home is growing more important as well.
As AJ Barkley explains:
"For many first-generation homeowners and their families, homeownership has a unique importance, given the collective efforts to overcome financial challenges that can often span generations…"
Bottom Line
If you're a first-generation homebuyer, being prepared and working with a trusted expert is key to achieving your dream. Let's connect today so you can get started on your path to homeownership.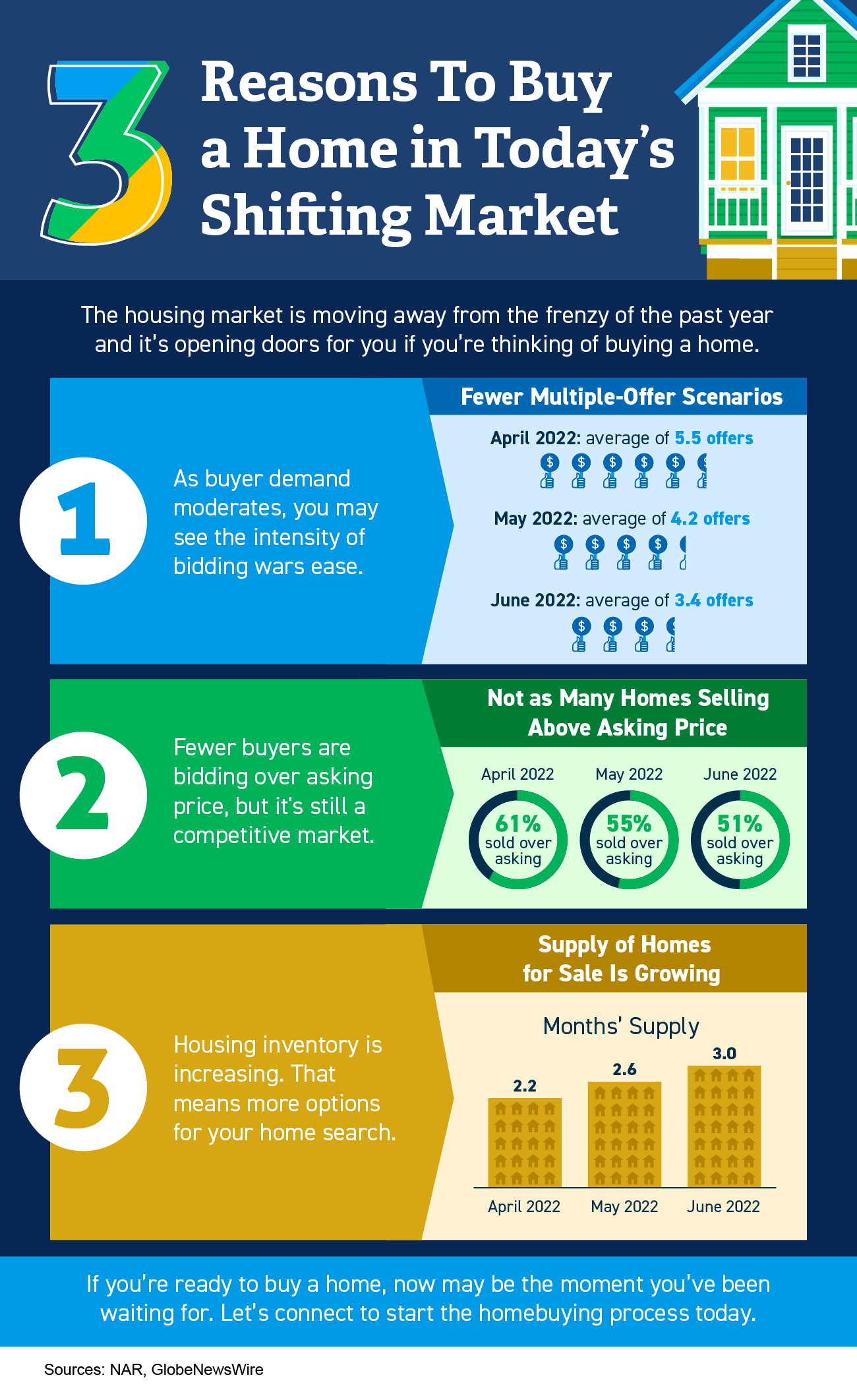 Some Highlights
The housing market is moving away from the frenzy of the past year and it's opening doors for you if you're thinking about buying a home.
Housing inventory is increasing, which means more options for your search. Plus, the intensity of bidding wars may ease as buyer demand moderates, leading to fewer homes selling above asking price.
If you're ready to buy a home, now may be the moment you've been waiting for. Let's connect to start the homebuying process today.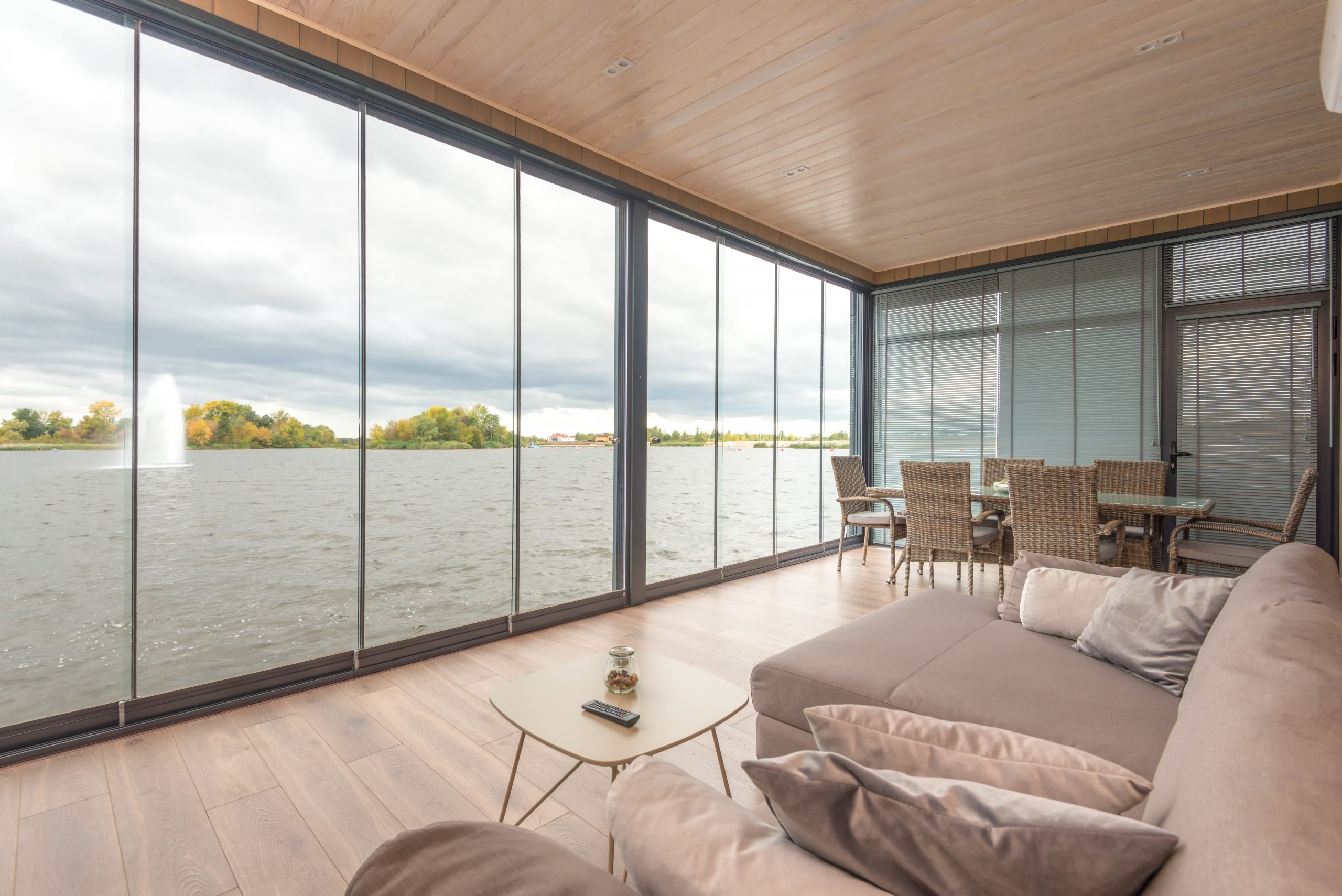 If you're a millennial, homebuying might be top of mind for you. Your generation is the largest group of homebuyers in the market today and has been since 2014, according to the National Association of Realtors (NAR). And while other millennials are looking to buy for the first time, you may be one of the many who are now discovering you've outgrown your home.
If that's the case, you're not alone. The past two years brought about significant changes for many people, and today, homeowners are reevaluating what they truly need in a home. As a recent report from the Wall Street Journal states:
"They say the pandemic and the emergence of remote work accelerated millennial home-buying trends already under way. . . . Millennials who already owned homes traded up for more space."
So, if you're working remotely now or simply have a growing need for additional space, it may be time to move. And even if you purchased your current home sometime over the last few years, you can still move into a different one that has the space and features you're looking for. That's because there's a good chance you have more equity than you realize. As Diana Olick, Real Estate Correspondent for CNBC, notes:
"The stunning jump in home values over the course of the Covid-19 pandemic has given U.S. homeowners record amounts of housing wealth. . . . Even homeowners who weren't listing their properties for sale were gaining equity. About 42% of homeowners were considered equity-rich at the end of last year, meaning their mortgages were half or less than half the value of their home."
Growing equity can be the key you need to fuel your next move, especially if you're looking to purchase a larger home. When you sell your current house, the equity that comes back to you in the sale can be used toward the down payment on your next home.
In other words, your purchasing power may be greater than you realize, making a move to a larger home a realistic option. That, plus your changing needs, might make moving now more desirable than ever.
Bottom Line
If you're a millennial thinking about moving this year, you're not alone. Let's connect today to discuss the equity you have in your current home and the opportunities it can create.