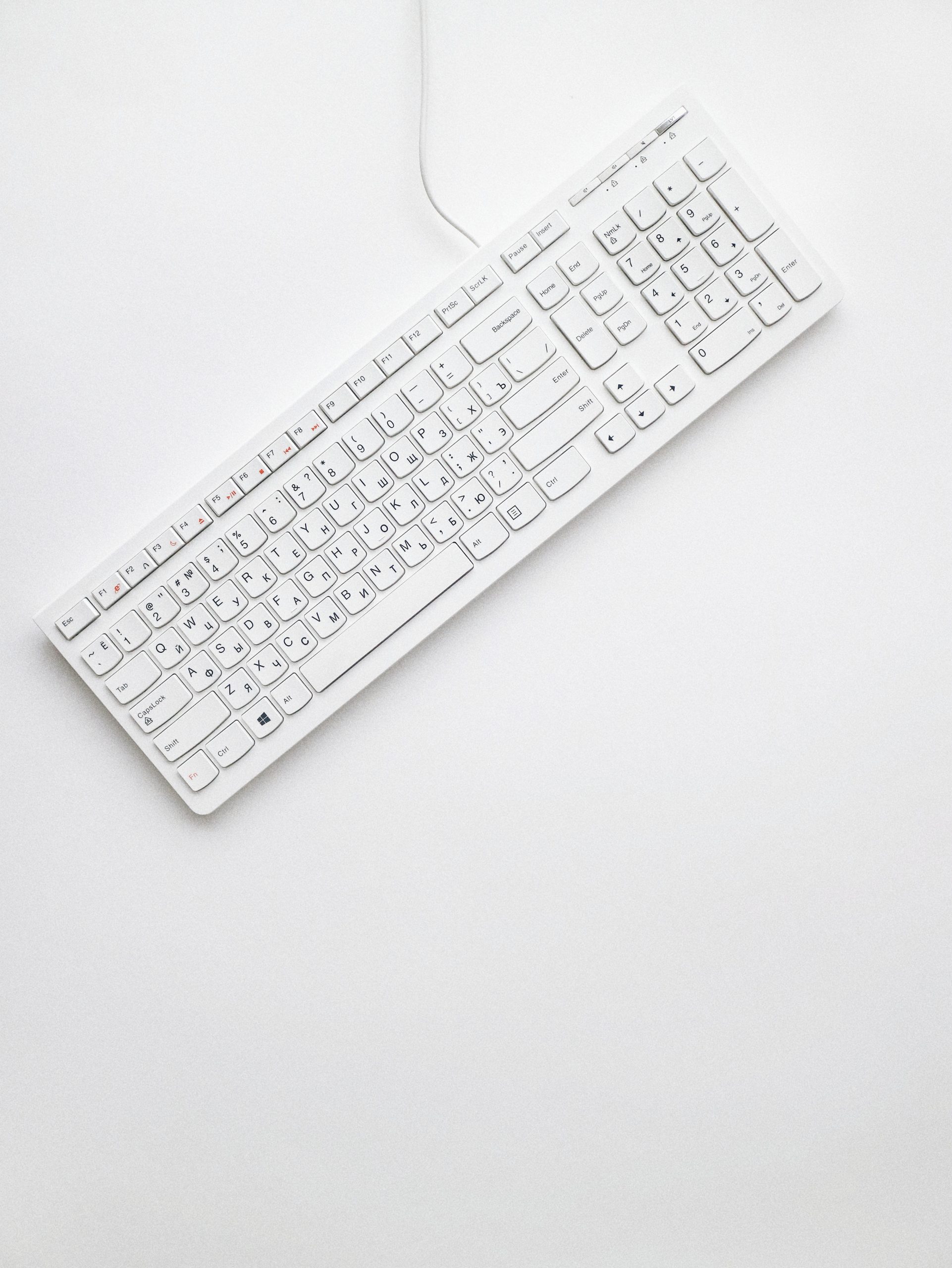 In a market that's shifting as fast as it is today, many homeowners wonder what, if anything, needs to be renovated before they sell their house. That's where a trusted real estate professional comes in. They can help you think through today's market conditions and how they impact what you should – and shouldn't – do before selling your house.
Here are some considerations a professional will guide you through.
What You Need To Know About Your Local Market
Since the supply of homes for sale has increased so much this year, today's buyers have more options than they had last year. That may mean you're not able to ignore some of those repairs or cosmetic updates you could have skipped in previous months. As a recent article from realtor.com says:
"To stand out in the market, sellers should make their home attractive to buyers, which usually means some selective updates."
The key word here is selective. Since it's still a sellers' market, focusing on a few key areas may be enough to make your house stand out from other options. And since inventory is still low overall, it's also possible buyers may be willing to handle the renovations themselves once they move in. It all depends on buyer demand and the available inventory in your local area. For advice on what's happening in your market and what to do to make your house show well, lean on a professional.
Not All Renovation Projects Are Equal
In addition to making sure your house makes a good first impression, you'll also want to consider the return on your investment (ROI) for any renovations. According to the 2022 Remodeling Impact Report from the National Association of Realtors (NAR), here are the projects that could net you the best return when you sell your house (see visual below):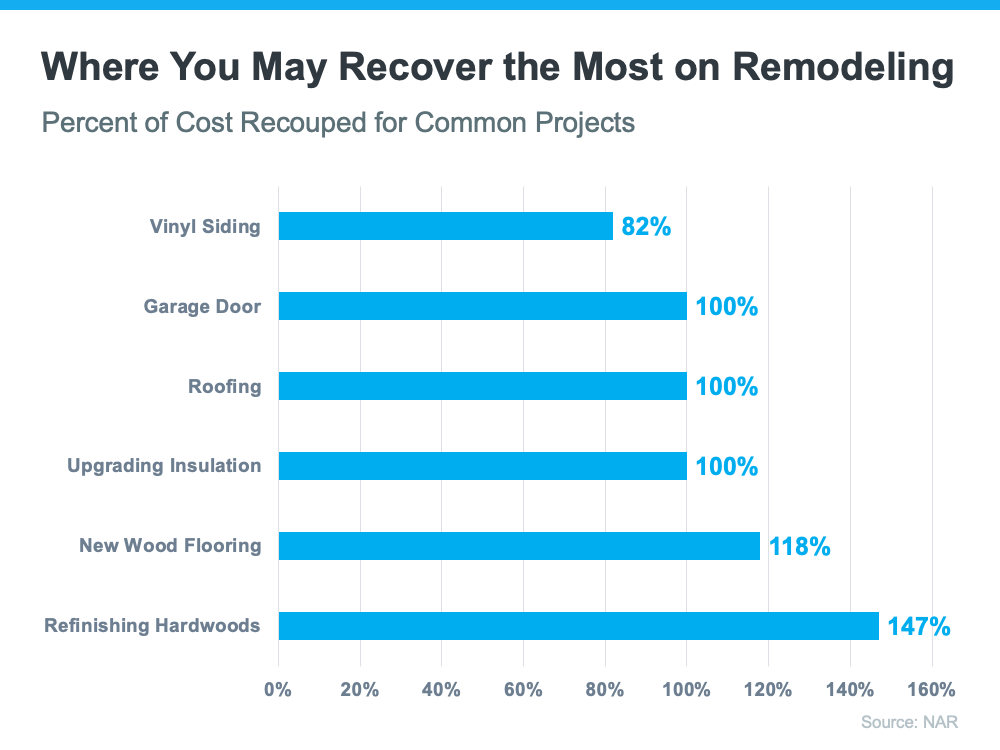 Again, your real estate advisor is your best resource. When your agent comes to your house for a walk-thru and consultation, they'll use their expertise to offer any insight into what you may need to repair, replace, or refinish. They also know what other sellers are doing before listing their homes and how buyers are reacting to those upgrades to help steer you in the right direction. As Dr. Jessica Lautz, Vice President of Demographics and Behavioral Insights for NAR, explains:
"This year, the winner was hardwood flooring. Hardwood floor refinishing and putting in new wood flooring had the most significant value, . . ."
How To Draw Buyer Attention to the Upgrades You've Made
For any projects you've already completed or for those you plan to do before listing, make sure your real estate professional knows. They're not just an advisor to help you decide where to focus your efforts, they're also skilled at highlighting any upgrades in your listing. That way, potential buyers know about the features that may help sell them on the house.
No matter what, contact a local real estate professional for expert advice on what work needs to be done and how to make it as appealing as possible to future buyers. Every home is different, so a conversation with your agent is mission-critical to make sure you make the right moves when selling this season.
Bottom Line
In today's shifting market, it's important to spend your time and money wisely when you're getting ready to move. Let's connect to find out where to focus your efforts before you sell.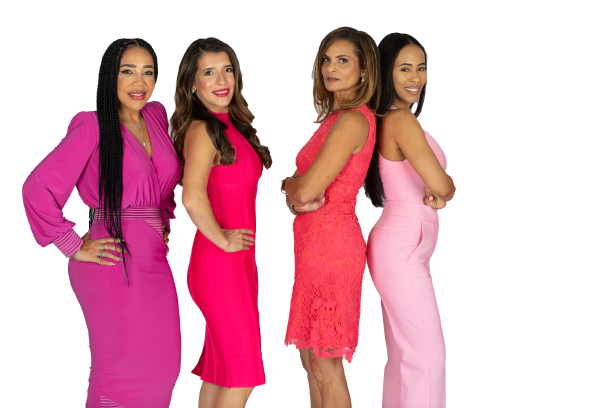 Some Highlights
If you're thinking of buying or selling a home, you'll want a trusted real estate professional on your side for their industry experience and expert insights.
The right advisor utilizes the latest technology and can help you navigate today's home pricing and market values, the contracts and fine print, and the negotiations you'll face.
Let's connect so you have expert advice each step of the way.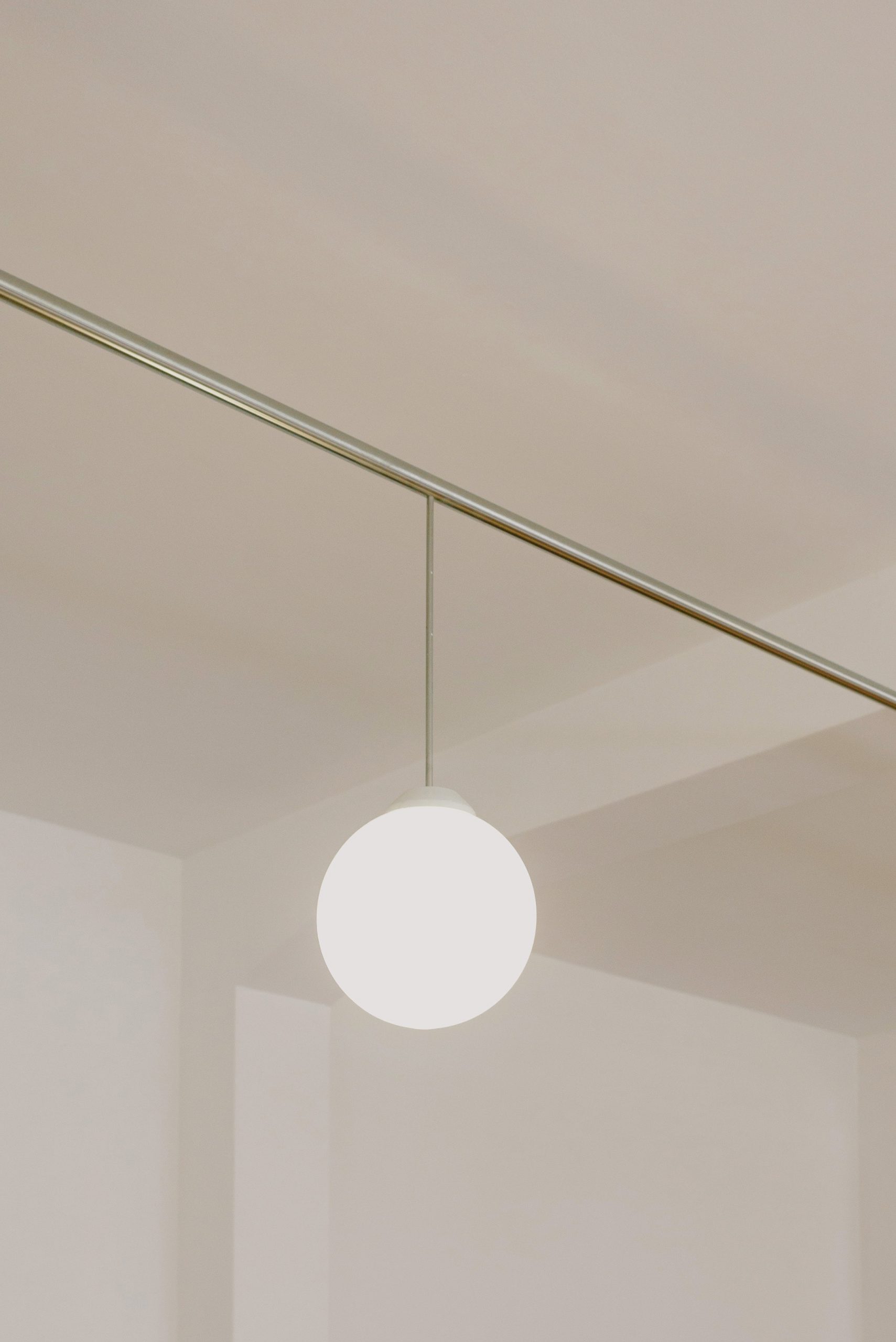 There's no denying the housing market is undergoing a shift this season as buyer demand slows and the number of homes for sale grows. But that shift actually gives you some unique benefits when you sell. Here's a look at the key opportunities you have if you list your house this fall.
Opportunity #1: You Have More Options for Your Move
One of the biggest stories today is the growing supply of homes for sale. Housing inventory has been increasing since the start of the year, primarily because higher mortgage rates helped cool off the peak frenzy of buyer demand. But what you may not realize is, that actually could benefit you.
If you're selling your house to make a move, it means you'll have more options for your own home search. That gives you an even better chance to find a home that checks all of your boxes. So, if you've put off selling because you were worried about being able to find somewhere to go, know your options have improved.
Opportunity #2: The Number of Homes on the Market Is Still Low
Just remember, while data shows the number of homes for sale has increased this year, housing supply is still firmly in sellers' market territory. To be in a balanced market where there are enough homes available to meet the pace of buyer demand, there would need to be a six months' supply of homes. According to the latest report from the National Association of Realtors (NAR), in July, there was only a 3.3 months' supply.
While you'll have more options for your own home search, inventory is still low, and that means your home will still be in demand if you price it right. That's why the most recent data from NAR also shows the average home sold in July still saw multiple offers and sold in as little as 14 days.
Opportunity #3: Your Equity Has Grown by Record Amounts
The home price appreciation the market saw over the past few years has likely given your equity (and your net worth) a considerable boost. Danielle Hale, Chief Economist at realtor.com, explains:
"Home owners trying to decide if now is the time to list their home for sale are still in a good position in many markets across the country as a decade of rising home prices gives them a substantial equity cushion . . ." 
If you've been holding off on selling because you're worried about how rising prices will impact your next home search, rest assured your equity can help. It may be just what you need to cover a large portion (if not all) of the down payment on your next home.
Bottom Line
If you're thinking about selling your house this season, let's connect so you have the expert insights you need to make the best possible move today.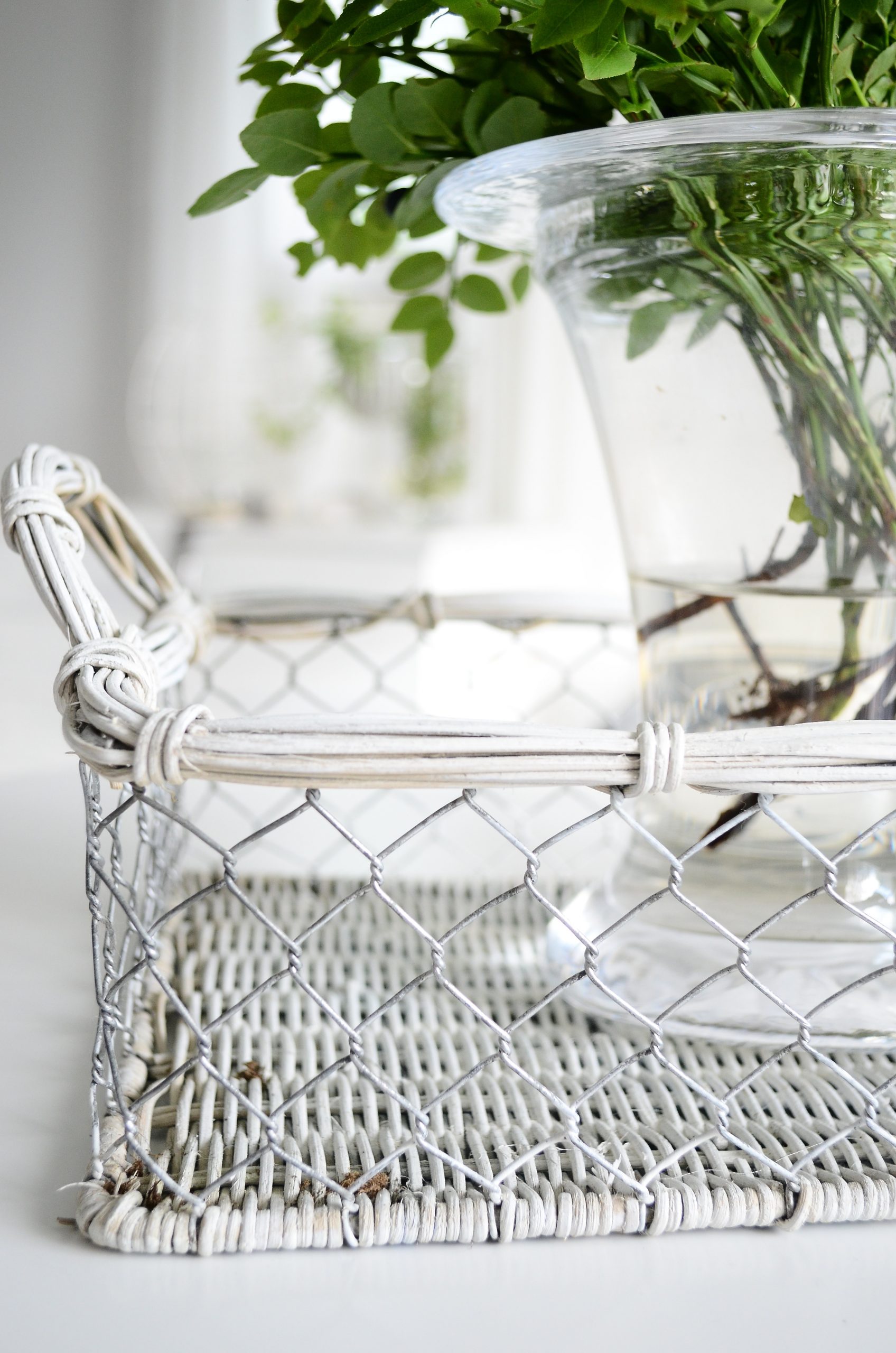 If you've been thinking of buying a home, you may have been watching what's happened with mortgage rates over the past year. It's true they've risen dramatically, but where will they go from here, especially as the market continues to slow?
As you think about your homeownership goals and decide if now's the time to make your move, the best place to turn to for that information is the professionals. Here's a summary of the latest mortgage rate forecasts from housing market experts.
Experts Project Mortgage Rates Will Stabilize
While mortgage rates continue to fluctuate due to ongoing inflationary pressures and economic uncertainty, experts project they'll start to stabilize in the months ahead. According to the latest projections, mortgage rates are expected to hover in the low to mid 5% range initially, and then potentially dip into the high 4% range by later next year (see chart below):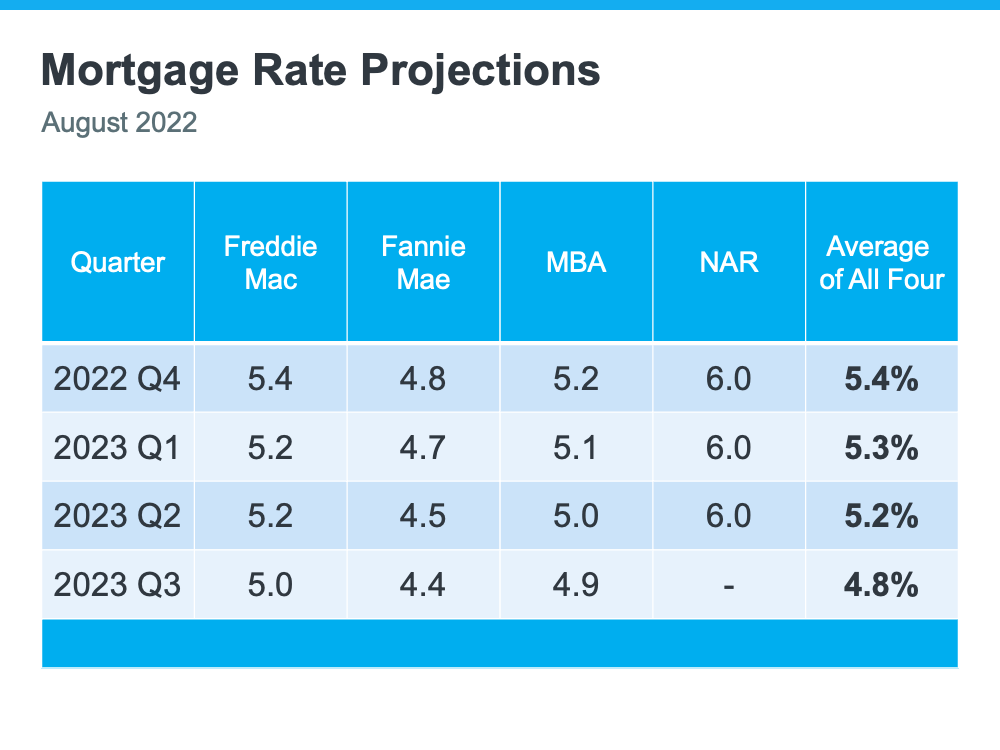 That could bring you some welcome relief. So far this year, mortgage rates have climbed over two percentage points due to the Federal Reserve's response to inflation, and that's made it more expensive to buy a home. And wondering if the rise in rates will continue is keeping some prospective buyers on the sidelines.
But now that experts say mortgage rates should stabilize, this gives you a bit more certainty about what they think the future holds, and that may help you feel more confident about your decision to buy a home.
Bottom Line
Whether you're looking to buy your first home, move up to a larger home, or even downsize, you need to know what's happening in the housing market so you can make the most informed decision possible. Let's connect to discuss your goals and determine the best plan for your move.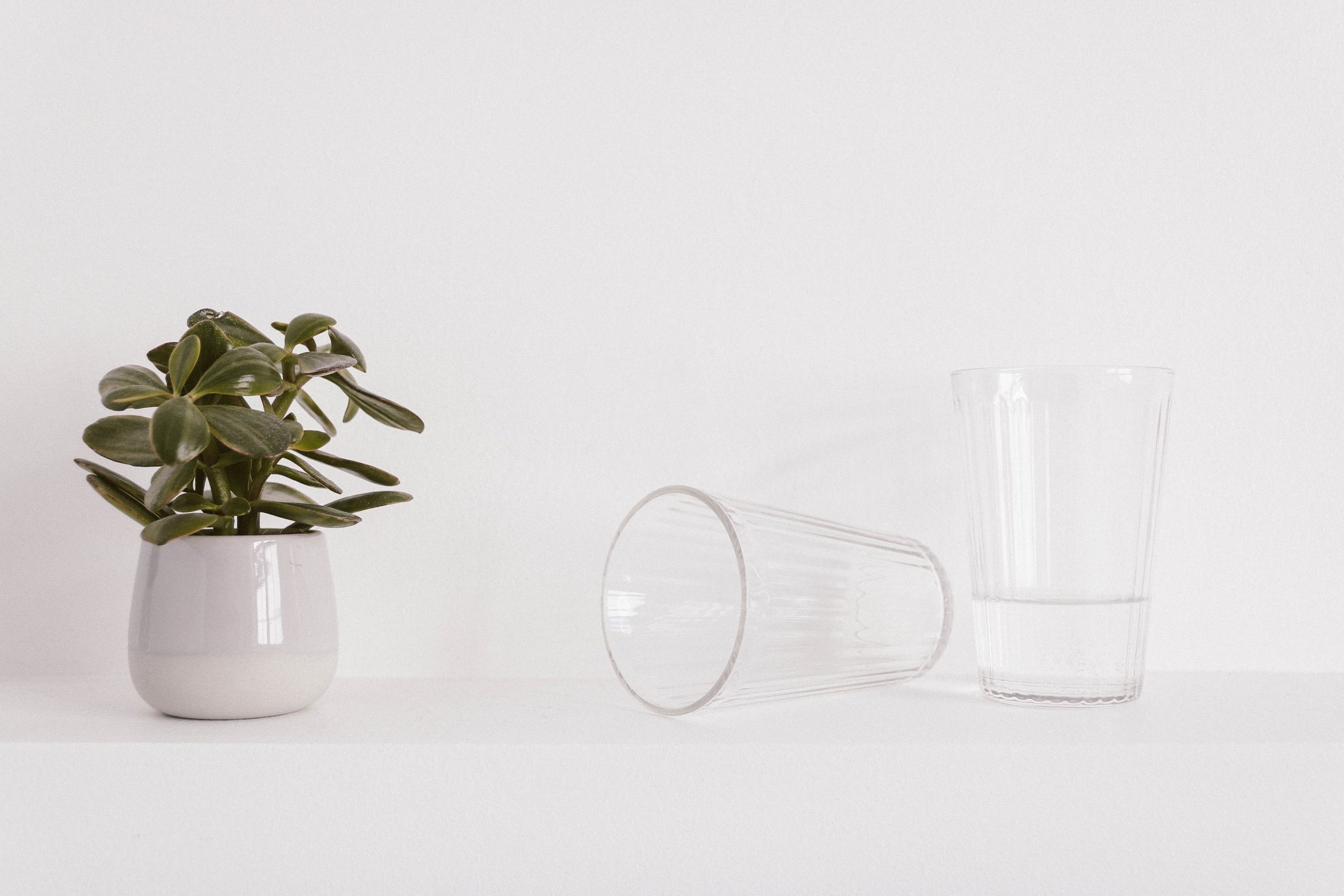 Owning a home is a major financial milestone and an achievement to take pride in. One major reason: the equity you build as a homeowner gives your net worth a big boost. And with high inflation right now, the link between owning your home and building your wealth is especially important.
If you're looking to increase your financial security, here's why now could be a good time to start on your journey toward homeownership.
Owning a Home Is a Key Ingredient for Financial Success
A report from the National Association of Realtors (NAR) details several homeownership trends, including a significant gap in net worth between homeowners and renters. It finds:
". . . the net worth of a homeowner was about $300,000 while that of a renter's was $8,000 in 2021."
To put that into perspective, the average homeowner's net worth is roughly 40 times that of a renter's. This difference shows owning a home is a key step in achieving financial success.
Equity Gains Can Substantially Boost a Homeowner's Net Worth
The net worth gap between owners and renters exists in large part because homeowners build equity. When you own a home, your equity grows as your home appreciates in value and you make your mortgage payments each month. As a renter, you don't have that same opportunity. A recent article from CNET explains:
"Homeownership is still considered one of the most reliable ways to build wealth. When you make monthly mortgage payments, you're building equity in your home . . . When you rent, you aren't investing in your financial future the same way you are when you're paying off a mortgage."
But on top of that, your home equity grows even more as your home appreciates in value over time. That has a major impact on the wealth you build, as a recent article from Bankrate notes:
"Building home equity can help you increase your wealth over time, . . . A home is one of the only assets that have the potential to appreciate in value as you pay it down."
In other words, when you own your home, you have the advantage of your mortgage payment acting as a contribution to a forced savings account that grows in value as your home does. And when you sell, any equity you've built up comes back to you. As a renter, you'll never see a return on the money you pay out in rent every month.
Bottom Line
Owning a home is an important part of building your net worth. If you're ready to start on your journey to homeownership, let's connect today.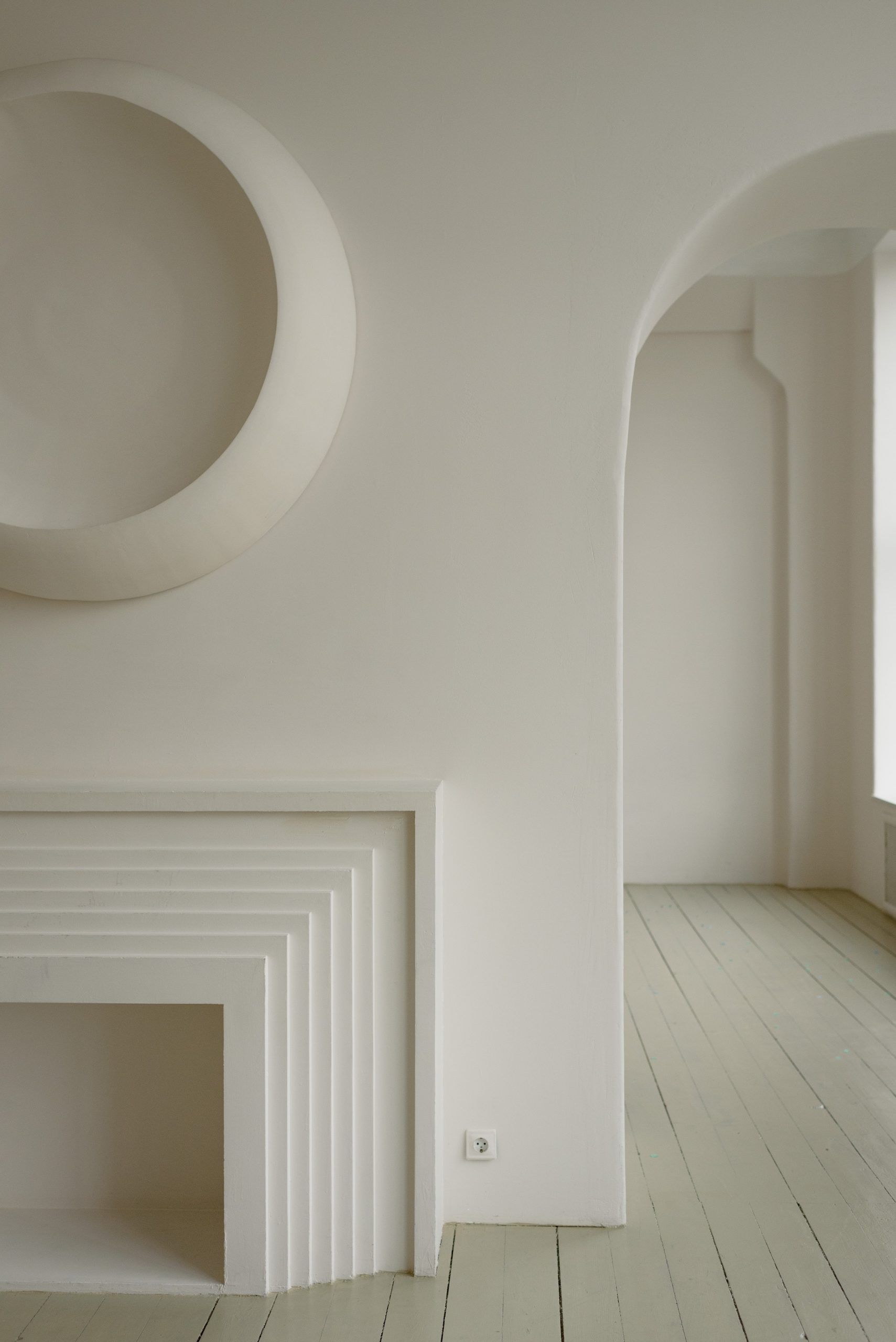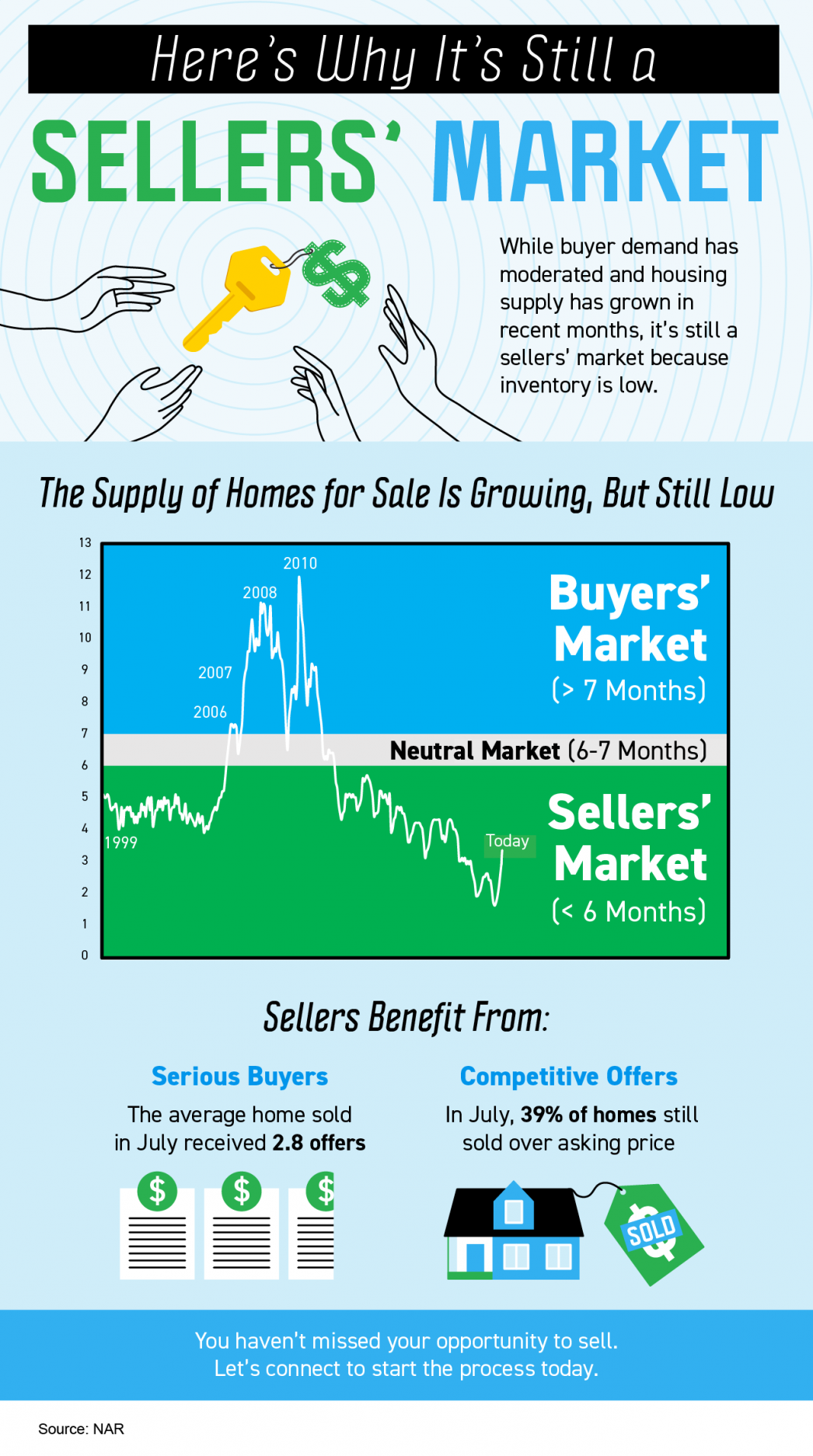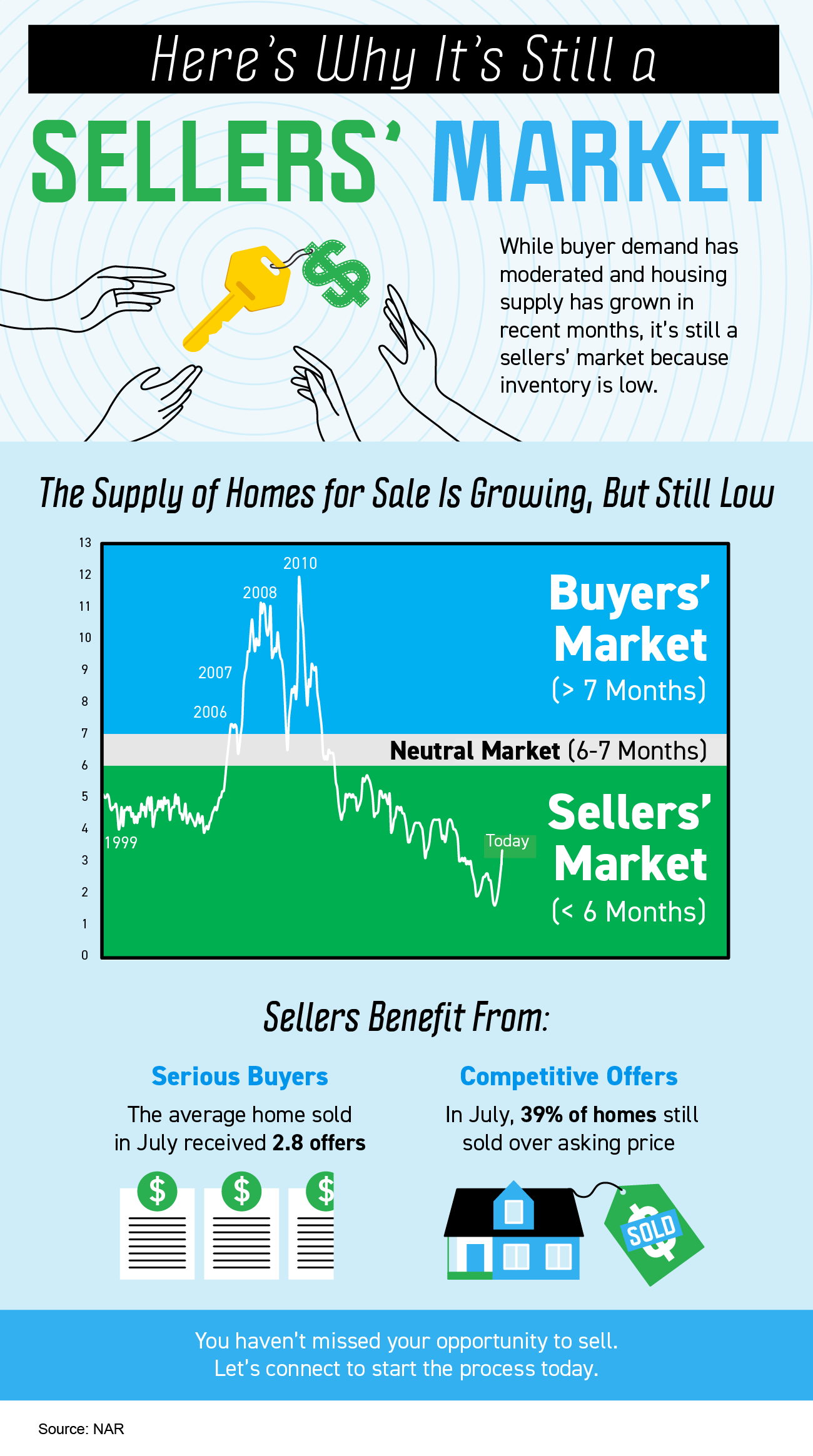 Some Highlights
While buyer demand has moderated and housing supply has grown in recent months, it's still a sellers' market because inventory is low.
The latest data shows sellers continue to benefit from serious buyers and competitive offers. In July, the average home received 2.8 offers and 39% sold over the asking price.
You haven't missed your opportunity to sell. Let's connect to start the process today.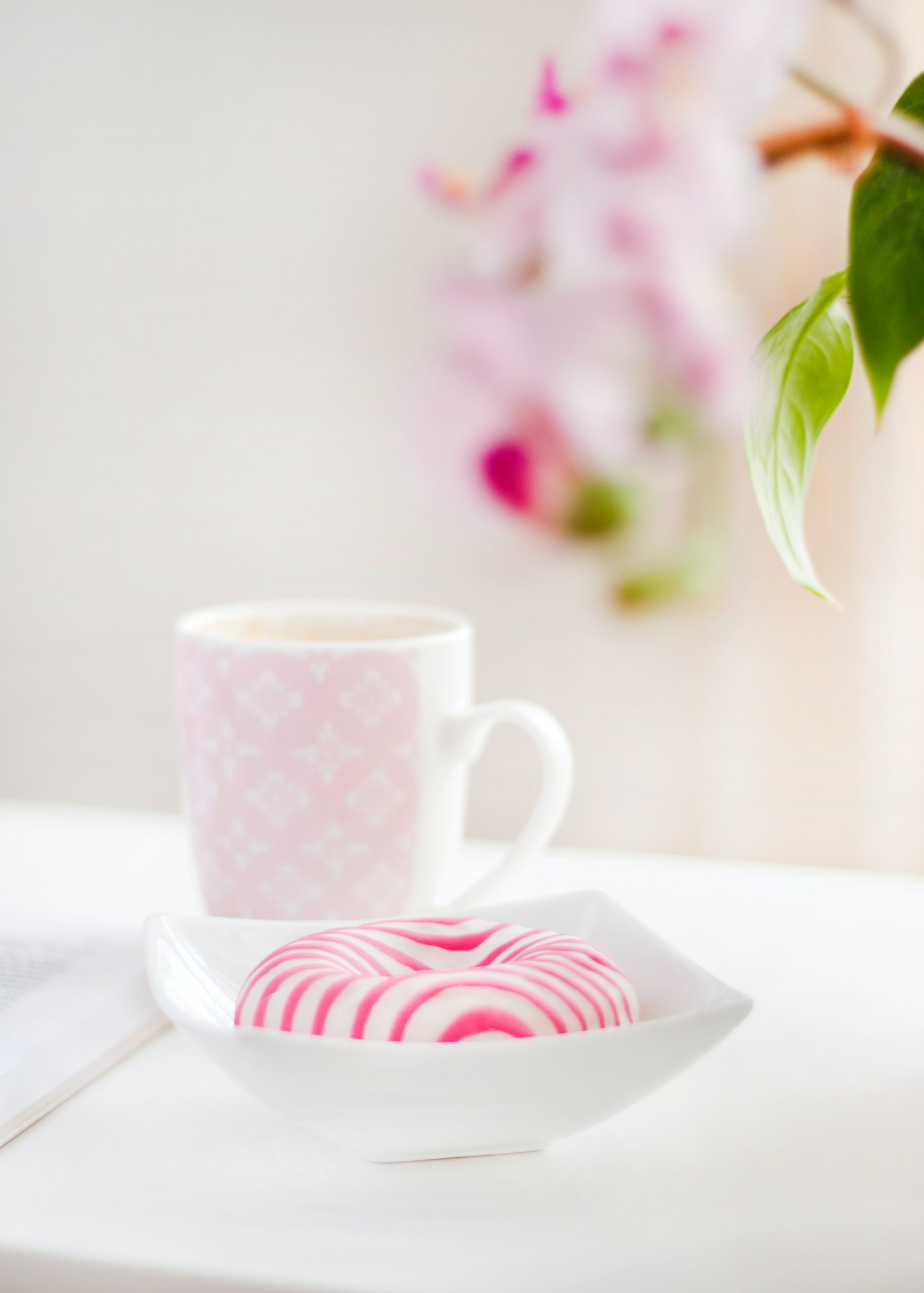 One of the biggest questions people are asking right now is: what's happening with home prices? There are headlines about ongoing price appreciation, but at the same time, some sellers are reducing the price of their homes. That can feel confusing and makes it more difficult to get a clear picture.
Part of the challenge is that it can be hard to understand what experts are saying when the words they use sound similar. Let's break down the differences among those terms to help clarify what's actually happening today.
Appreciation is when home prices increase.
Depreciation is when home prices decrease.
Deceleration is when home prices continue to appreciate, but at a slower or more moderate pace.
Experts agree that, nationally, what we're seeing today is deceleration. That means home prices are appreciating, just not at the record-breaking pace they have over the past year. In 2021, data from CoreLogic tells us home prices appreciated by an average of 15% nationwide. And earlier this year, that appreciation was upward of 20%. This year, experts forecast home prices will appreciate at a decelerated pace of around 10 to 11%, on average.
The graph below uses the latest data from CoreLogic to help tell the story of how home prices are decelerating, but not depreciating so far this year.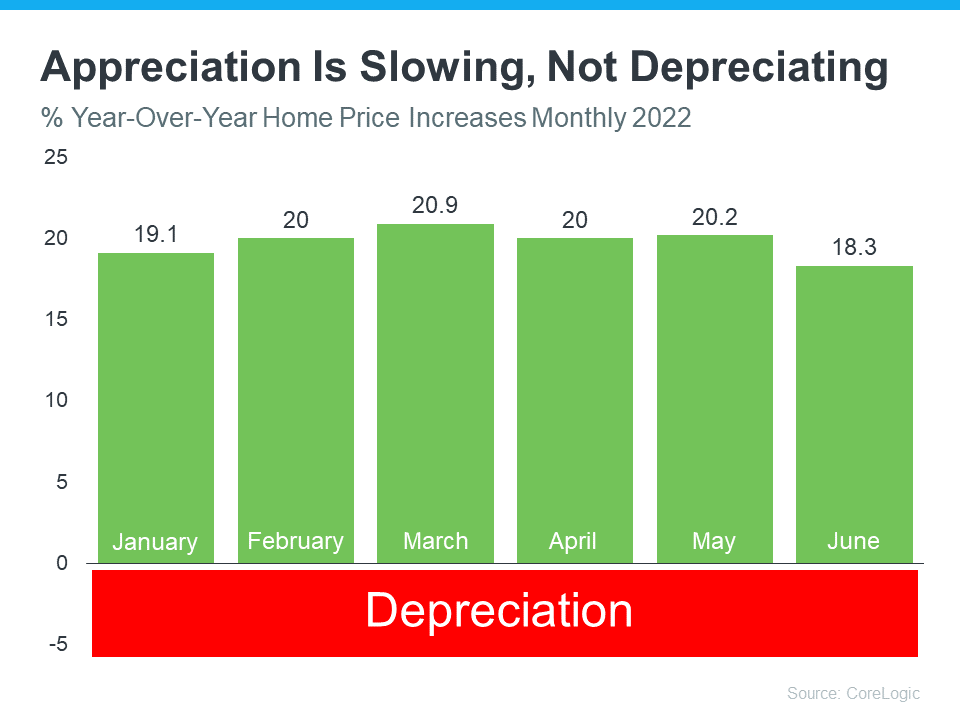 As the green bars show, home prices appreciated between 19-20% year-over-year from January to March. But over the last few months, the pace of that appreciation has decelerated to 18%. This means price growth is still climbing compared to last year but at a slower rate.
As the Monthly Mortgage Monitor from Black Knight explains:
"Annual home price growth dropped by nearly two percentage points . . . – the greatest single-month slowdown on record since at least the early 1970s. . . While June's slowdown was record-breaking, home price growth would need to decelerate at this pace for six more months to drive annual appreciation back to 5%, a rate more in line with long-run averages."
Basically, this means, while moderating, home prices are still far above the norm, and we'd have to see a lot more deceleration to even fall in line with more typical rates of home price growth. That's still not home price depreciation.
The big takeaway is home prices haven't fallen or depreciated nationwide, they're just decelerating or moderating. While some unique and overheated markets may see declines, nationally, home prices are forecast to appreciate. And when we look at the country as a whole, none of the experts project home prices will net depreciate or fall. They're all projecting ongoing appreciation.
Bottom Line
If you have questions about what's happening with home prices in our local area, let's connect.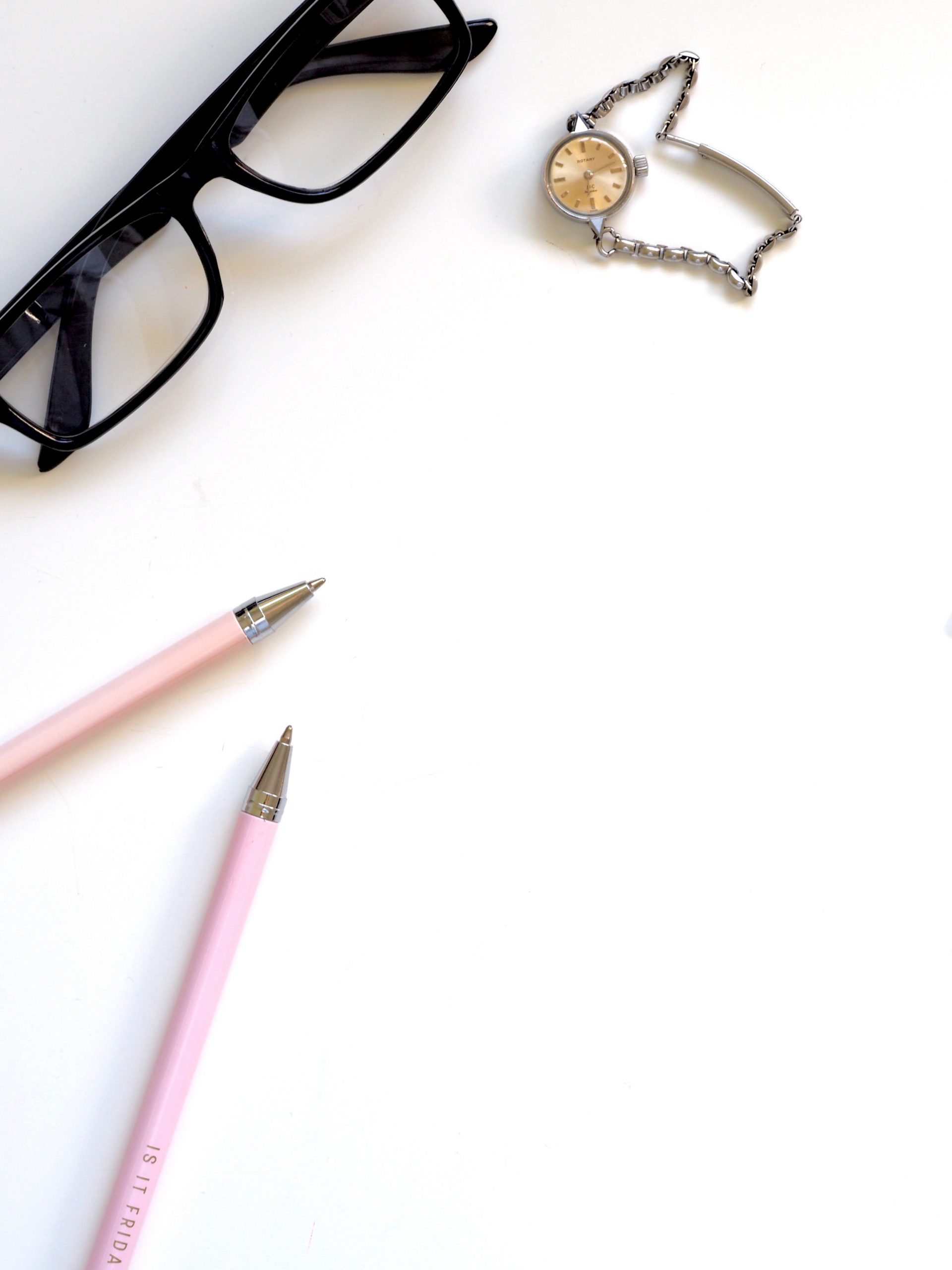 According to the U.S. Census Bureau, this year, builders are on pace to complete more than a million new homes in this country. If you've had trouble finding a home to buy over the past year, it may be time to work with your trusted agent to consider a new build and the incentives that come with it. Here's why.
The Supply of Newly Built Homes Is Rising
When looking for a home, you can choose between existing homes (those that are already built and previously owned) and newly constructed ones. While the inventory of existing homes is on the rise today, it's still in tight supply, meaning it can be challenging to find just the right one.
The inventory of newly built homes, however, is also rising. And with more options available than there have been in years, a new home may be just the answer you're looking for. The graph below shows just how much the supply of newly built homes has grown this year.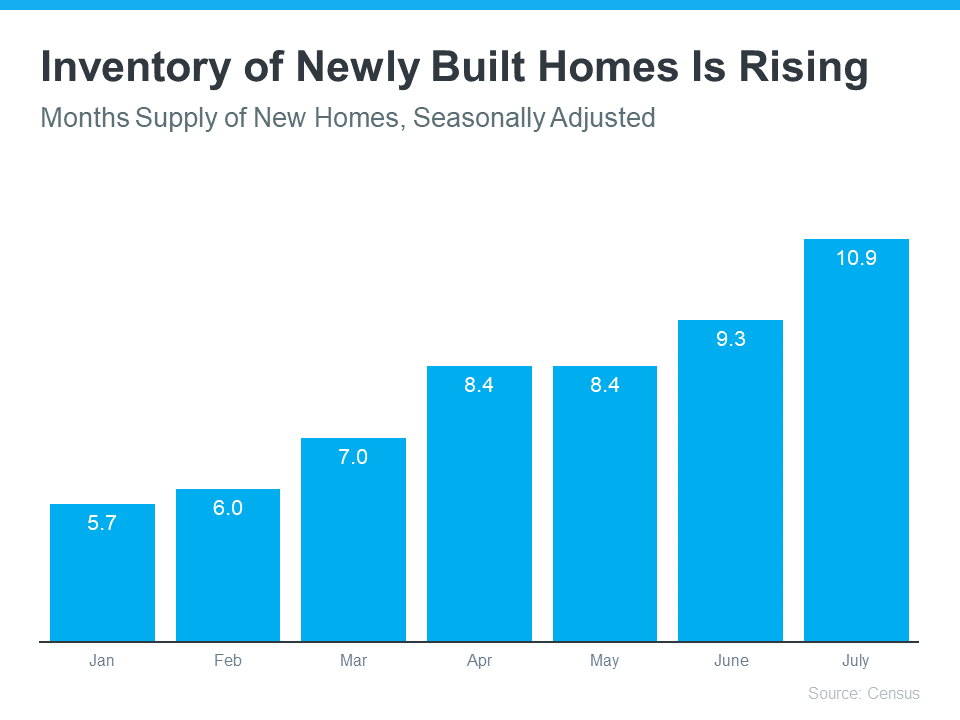 And here's the thing – builders are also keeping a close eye on current market trends. With mortgage rates rising this year and, as a result, buyer demand softening, builders are slowing their pace of new construction. That's because they learned their lesson in the housing crash of 2008 and want to avoid over-building and having too much inventory in their pipeline.
Basically, while there are more newly built homes on the market today than there have been in years, many builders want to sell their current inventory before adding much more – and that's where you can really benefit. Today, builders may be more willing to work with buyers. According to a recent survey, 83% of builders have reduced their prices over the last three months.
What That Means for You

The current supply of newly built homes for sale coupled with the fact that data shows the majority of builders are doing price reductions are both great news for you. It means you may have more options and possibly some much-needed relief if you consider newly built homes in your search.
Bottom Line
If you're ready to buy, it may be time to look for a newly built home. To learn what's available in our area and what incentives these builders are offering, let's connect today.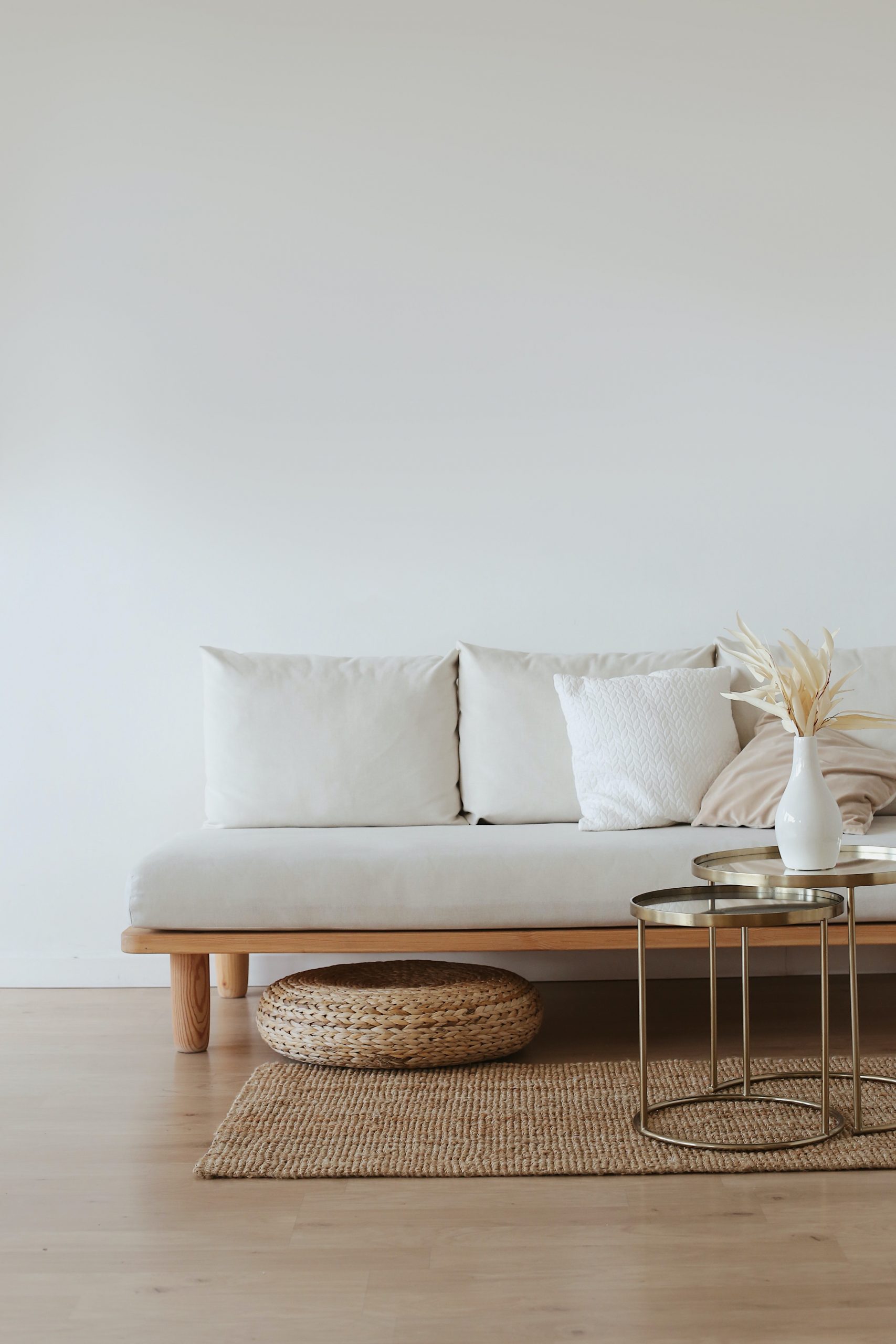 One of the top stories in recent real estate headlines was the intensity and frequency of bidding wars. With so many buyers looking to purchase a home and so few of them available for sale, fiercely competitive bidding wars became the norm during the pandemic – and it drove home prices up. If you tried to buy a house over the past two years, you probably experienced this firsthand and may have been outbid on several homes along the way.
But here's the news you've been waiting for: data shows clear signs bidding wars are easing this year.
According to the National Association of Realtors (NAR), the average number of offers on recently sold homes has declined considerably over the past few months (see graph below):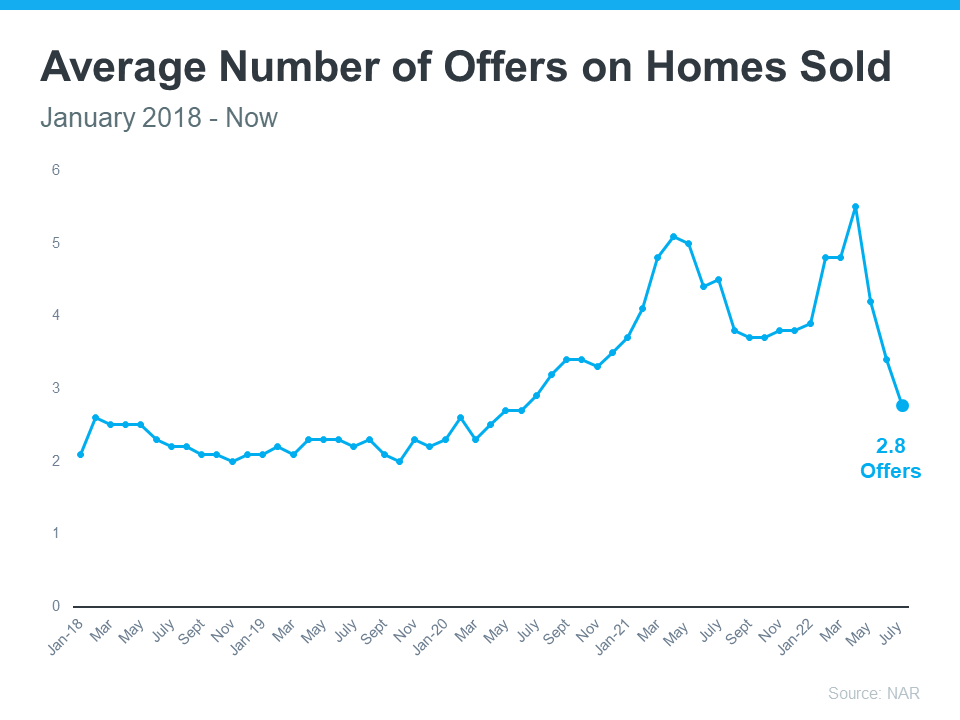 The graph shows homes were seeing a high of around five offers earlier this year. But the latest data shows that average was down to just shy of three offers per recently sold home. This shift is happening largely because rising mortgage rates moderated buyer demand and slowed home sales, resulting in a growing supply of homes on the market. Essentially, more choices for buyers.
What This Means for You
If you put your home search on pause because you were outbid last year or because you didn't want to deal with the peak intensity of bidding wars, you can breathe a welcome sigh of relief. While it's still a sellers' market, an uptick in inventory gives you a window of opportunity to jump back in. You may still be competing with some buyers, but it likely won't be anything like it was just a few short months ago.
Bottom Line
If you put your plans on pause because of intense bidding wars in recent years, it may be time to kick off your home search. Today, bidding wars are easing and that may mean less competition for you as a buyer. If you're serious about buying a home or making a move, let's connect to get started today.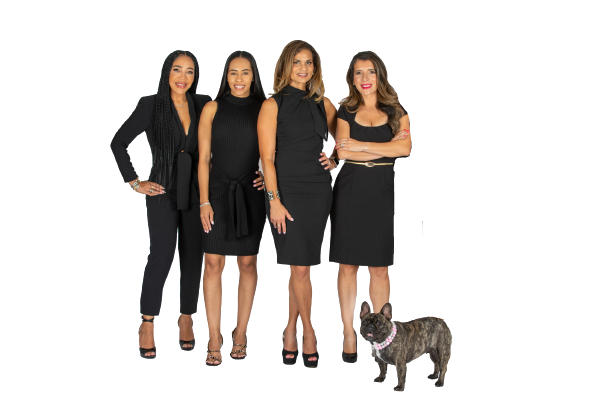 If you're a homeowner or are planning to become one soon, you're probably looking for clear information about today's housing market. And if you've turned to the news or even just read headlines recently, you might feel like you're left with more questions than answers. The best way to make sure you get what you need is to work with an expert.
Why You Want To Lean on a Trusted Professional
With any big milestone in life, it's wise to seek advice from people who are experts in their field.  While you likely want that advice to be perfect, perfect simply isn't possible. But professionals have the knowledge and experience to be able to provide you with the best advice for your situation.
For example, let's say you need an attorney, so you seek out an expert in the type of law required for your case. They won't immediately tell you how the case is going to end or how the judge or jury will rule. But what a good attorney can do is discuss the most effective strategies based on their experience and help you put a plan together. They'll even use their knowledge to work with you to adjust as new information becomes available.
Similarly, the job of a trusted real estate professional is to give you the best advice they can. Just like you can't find a lawyer to give you perfect advice, you won't find a real estate professional who can either. That's because it's impossible to know exactly what's going to happen throughout your transaction. But an expert real estate advisor knows market trends and the ins and outs of the homebuying and selling processes.
They'll use that knowledge to explain both the national headlines and what's happening in your local area. That way, you have the best of both worlds and can feel confident in your decision to buy or sell. Freddie Mac explains why having an expert on your side is so essential:
"The success of your homebuying journey largely depends on the company you keep. . . . Be sure to select experienced, trusted professionals who will help you make informed decisions and avoid any pitfalls."
With their expertise, a real estate advisor can anticipate what could happen next and work with you to put together a solid plan. Then, they'll guide you through the process, helping you make decisions along the way. That's the very definition of getting the best – not perfect – advice. And that's the power of working with a real estate advisor.
Bottom Line
To get expert advice when you buy or sell a home this year, let's connect today.